Howl
(2010)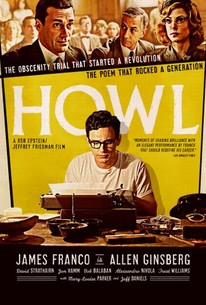 TOMATOMETER
AUDIENCE SCORE
Critic Consensus: James Franco gives it his all as beat poet Allen Ginsberg, but Howl never develops enough of a focus to do his performance justice.
Movie Info
Starring James Franco in a career-defining performance as Allen Ginsberg, HOWL is the story of how the young poet's seminal work broke down societal barriers in the face of an infamous public obscenity trial. In his famously confessional style, Ginsberg - poet, counter-culture icon, and chronicler of the Beat Generation - recounts the road trips, love affairs, and search for personal liberation that led to HOWL, the most timeless work of his career. HOWL interweaves three stories: the unfolding of the landmark 1957 obscenity trial; an imaginative animated ride through the prophetic masterpiece; and a unique portrait of a man who found new ways to express himself, and in doing so, changed his own life and galvanized a generation. -- (C) Oscilloscope
News & Interviews for Howl
Audience Reviews for Howl
This is definitely on the side of experimental, when it comes to former documentary filmmakers Rob Epstein and Jeffrey Friedman ("The Trail of Harvey Milk"). They have historically told the stories of gay icons and the reality of their lives in comparison to media interpretations, but there wasn't much that was learned from this film. Though it was not a documentary it for sure was not a bio-pic either. The film brings together three different themes and elements to Beat poet Allen Ginsberg's life: a reading at the Six Gallery in 1955 where Ginsberg read his work "Howl" in three parts, an animated sequence that follows the events of the poem and expresses the real life emotions of the author (based on animation Ginsberg actually did), and an obscenity trial against the first publisher of Ginsberg's poem in 1957. There are also interspersed interview-like sections of the film where Ginsberg (Franco) speaks on his life and then there are filmed sections that show his troubles. Most prevalent is his affair with Jack Kerouac, his admiration for Neal Cassady, his friendship with Carl Solomon, and his life as a homosexual with his life partner Peter Orlovsky. These snippets of information are most often lost to the audience as the narrative becomes garbled between the actual interviews and the disconnected style of Ginsberg's poetry which flits in and out of the rest of the film. The animation, I will say, works well with Franco's reading of Ginsberg's work, which works well in contrast with the courtroom scenes. In those scenes two lawyers keep bringing literary critics, English professors and writers to the stand to analyze the merit of Ginsberg's work and the necessity of the curse and slang words that he uses time and again to emphasize his travels and the lives of those in the Beat generation. The film doesn't do much except show the merits and cultural significance of the actual poem and doesn't relay much about Ginsberg's actual life, which leaves you a bit wanting when there's so much controversy accumulated around this trial going on. If Ginsberg was more in the foreground of the narrative, this film would make more sense, since its subject matter is so surreal, and make the trial mean more by the very end. As an analysis of the poem for an English class, sure, this film makes its point convincingly, but did it have to argue that in this day and age?
Spencer S.
Super Reviewer
½
Howl is a surprisingly academic and dry take on a passionate artist and work: Allen Ginsberg and Howl. James Franco is impressively committed, and gives a charismatic and touching performance. Though the material is intellectually interesting, the filmmakers have chosen to have characters only speak lines that are on the public record. Though probably historically accurate, this choice does nothing to engage our emotions. The focus of the film is Howl's 1950's obscenity trial in San Francisco, when beat poet and bookstore owner Lawrence Ferlinghetti is blocked from selling the book. The trial is reproduced word for word and acted with talent and enthusiasm by a star studded cast including Bob Balaban, Jon Hamm, Mary Louise Parker, etc. The problem is that Ginsberg isn't there in court and the outcome doesn't seem to affect him one way or the other. Most of the rest of the dialogue is derived from various interviews and writings of Ginsberg, and that material is great. It touches on his relationship with Jack Kerouac, his homosexuality, how he came to poetry, his strained yet loving relationships with his parents and many other rich veins. But those scenes don't really deliver as much impact is they should, because they are presented clinically, with Franco's voice speaking Ginsberg's words, illustrated with documentary style scenes with actors (as Kerouac, or Neil Cassidy) with no dialogue. The most touching and memorable scenes in the film are Ginsberg reading Howl in a cafe, with close ups of the young beatniks reacting. Franco really commits heart and soul to the words and by the end, he picks up a momentum and passion that choked me up. Though his reading is hardly Shakespearean, the film's closing credits show the real poet reading on film. Franco's thin, New Yorkese, low key delivery captured Ginsberg's style to perfection. Directors Friedman and Epstein are from the documentary world and they have not adjusted well to the somewhat different medium of dramatic scripted storytelling. The film is worth seeing if you feel like hearing Howl read aloud and want to soak up some fifties style. A really good feature film about Ginsberg that gets you in the gut has yet to be made.
Josh Morris
Super Reviewer
½
Having never been able to understand and appreciate poetry, I found myself pulled into a poets heart and soul. It did take a little time to begin feeling my connection and by the end felt I had an inner poet and was inspired.
Thomas Johnston
Super Reviewer
Howl Quotes
| | |
| --- | --- |
| Allen Ginsberg: | Poetry is a rhythmic articulation of feelings. |
| | |
| --- | --- |
| Allen Ginsberg: | I started writing poetry cause I fell in love and needed to express my feelings. |