C'est Pas Moi, Je le Jure! (It's Not Me, I Swear!)
(2008)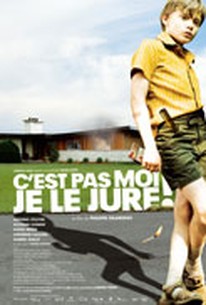 C'est Pas Moi, Je le Jure! (It's Not Me, I Swear!) Photos
Movie Info
La Moitié Gauche Du Frigo director Philippe Falardeau follows up that Toronto International Film Festival favorite with this darkly comic study in abandonment and innocence lost as related to a troubled young boy from an explosively dysfunctional family. Set in 1968, Falardeau's adaptation of Bruno Herbert's novel centers on the early life experience of ten year old Leon (Antoine L'Écuyer in his screen debut). Leon's proclivity towards theft, vandalism, breaking and entering, running away from home, and failed suicide attempts might lead the casual observer to deduct that his parents were a horrifically mismatched pair prone to window-rattling domestic tiffs that are frequently punctuated by broken dishes and shredded paintings - a deduction that couldn't be more accurate considering the fact that his parents relationship is rapidly deteriorating. His father is distant, and his mother's conspiratorial approach to child-rearing ensures that Leon has precious few people to confide in outside of his best friend Lea, who seems to come from an equally discordant household. With each inch Leon's parents move towards the brink, their son's rebellion seems to increase tenfold. Later, when his mother abandons the family to start a new life in Greece and Lea announces her plans to move into a dictatorship, the young hellion embraces his wild side as never before. ~ Jason Buchanan, Rovi
Critic Reviews for C'est Pas Moi, Je le Jure! (It's Not Me, I Swear!)
Audience Reviews for C'est Pas Moi, Je le Jure! (It's Not Me, I Swear!)
½
In 2009 my wife and I got back to the Cleveland International Film Festival. This was the first film we saw that year. A story about a Dennis the Menace type character only more troubled. I really enjoyed this and thought it was funny, though all of the kid's attempts to end his life kept the movie from being too light-heart-ed. I appreciated the theme of normal and "un-normal" families. And the imagery was consistent with this theme. There was an island alone in the middle of the sea, a kite alone in the middle of the sky, an umbrella alone in a clearing in a corn field, a lone fox running through a field, the boy laying in his front yard, a single bowling pin left standing, and one black stone amongst several white stones in a fountain. The important thing to notice, I think, is that the boy's free-spirited mother, the black stone in society, keeps trying to give him a white stone. She wishes for him to fit into society better than she could.
Byron Brubaker
Super Reviewer
I really have a good time whenever I go to a Philippe Falardeau film and there is no exception here. What a funny tale of a young liar. Nice film.
John Ballantine
Super Reviewer
Completely magistral, you all should see this.
Emile Tremblay
Super Reviewer
C'est Pas Moi, Je le Jure! (It's Not Me, I Swear!) Quotes
There are no approved quotes yet for this movie.