Night Train
(2009)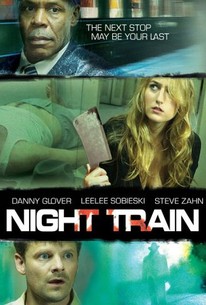 AUDIENCE SCORE
Critic Consensus: No consensus yet.
Movie Info
A train conductor (Danny Glover), a pre-med student (LeeleeSobieski), and a fast-talking salesman (Steve Zahn) find their greed clashing with their better judgment after stumbling into a fortune in diamonds aboard a speeding locomotive, and attempting to figure out a way to keep their discovery a secret. A nameless passenger has died en route to an unknown destination. His only possession: a mysterious box containing a valuable treasure. With that amount of money, the conductor, the student, and the salesman could all live comfortably for the rest of their days. But all three would rather have the fortune to themselves, and as the train races toward its destination, temptation, betrayal, deceit drives them each to irrational extremes in a paranoid bid to outsmart the others. Little do these three desperate souls realize that there's something sinister to this innocent looking box, and they might not find out what it is until it's already too late.
News & Interviews for Night Train
Critic Reviews for Night Train
Audience Reviews for Night Train
Christian C
Super Reviewer
"I really like Steve Zahn and Danny Glover. But this was not their best performances. Well no, more like not their best film cause their performances were solid. The movie tries to be mysterious, but it only ends up being confusing and pointless. The ending was crap too. I really enjoyed the first half, but by the middle it started losing its steam (pun inteded). Leelee impressed me by being really creepy in this movie. You never knew if she was being sincere or just waiting for her chance to strike her scythe (not literally, figuratively) down on you. It just wasn't what I was hoping it would be. Not worth seeing more than once."
♥˩ƳИИ ƜѲѲƉƧ♥
Super Reviewer
½
The film quality was distractingly bad, and I almost turned it off. But the wife wanted more, so we watched. It got pretty interesting for the first half of the movie. Then suddenly, it was like a new movie started and everything went to hell very quickly. Let's just say it went from "this is kinda cool" to "what the hell is going on?" in just a few minutes. Not a terrible movie, but one you should only watch under the right mood.
Curtis Lilly
Super Reviewer
Night Train Quotes
There are no approved quotes yet for this movie.