The Sunchaser
(1996)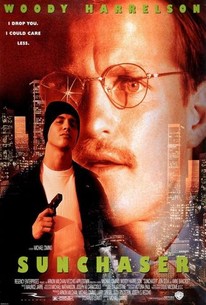 Movie Info
Michael Cimino, the director of The Deer Hunter and the ill-fated Heaven's Gate, helmed this bizarre New Age action picture in 1996. Based on a screenplay by Charles Leavitt, the film stars Woody Harrelson as Dr. Michael Reynolds, a rich, young L.A. physician who worries more about promotions and buying a $2 million home for his family than about his patients. Reynolds is assigned a 16-year-old convicted murderer, Brandon Monroe (Jon Seda), as his new patient. Brandon is a half-Cherokee gang member who killed his own stepfather, has terminal cancer, resents his privileged doctors, and has beaten up several pediatricians who've tried to care for him. Brandon gets a gun while going to the bathroom at the hospital and kidnaps Reynolds, stealing a car. While constantly threatening his doctor's life, Brandon takes him on a trip to an Arizona Indian reservation with the aim of immersing himself in a magic lake which native tradition says has healing powers. Along the way, the pair meet up with motorcycle gang members, rattlesnakes, and several New Age philosophers. Eventually, the materialistic doctor and the young tough gain a grudging respect for each other's values, and Reynolds even steals money to buy Brandon medicine.
Critic Reviews for The Sunchaser
Audience Reviews for The Sunchaser
½
It drags, is somewhat cliched and is improvable in its writing. However, the compelling story, progressive increase in that compellingness, a decent performance from Seda and a notably solid and extremely diverse performance from Harrelson leave "The Sunchaser" to be an imperfect, but still pretty decent film.
Cameron Johnson
Super Reviewer
½
The miscasting of Woody Harrelson as a cerebral physician is only the first mistake made by this fine combination of road thriller and male-bonding movie.
Dean McKenna
Super Reviewer
The Sunchaser Quotes
There are no approved quotes yet for this movie.