Warrior
(2011)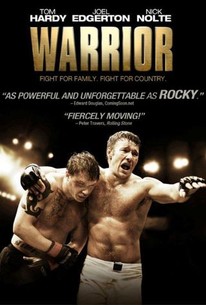 TOMATOMETER
AUDIENCE SCORE
Critic Consensus: Warrior relies on many of the clichés that critics of the genre love to mock -- and it transcends them with gripping action, powerful acting, and heart.
Movie Info
Haunted by a tragic past, ex-Marine Tommy Conlon (Hardy) returns home for the first time in fourteen years to enlist the help of his father (Nick Nolte) to train for SPARTA, the biggest winner-takes-all event in mixed martial arts history. A former wrestling prodigy, Tommy blazes a path toward the championship while his brother, Brendan (Edgerton), an ex-fighter-turned teacher, returns to the ring in a desperate bid to save his family from financial ruin. But when Brendan's unlikely, underdog rise sets him on a collision course with the unstoppable Tommy, the two brothers must finally confront each other and the forces that pulled them apart, facing off in the most soaring, soul stirring, and unforgettable climax that must be seen to be believed. -- (C) Lionsgate
News & Interviews for Warrior
Critic Reviews for Warrior
Audience Reviews for Warrior
½
A compelling drama that develops well the personalities and motivations of its two main characters - and even though the plot is driven by several coincidences and we know exactly from the start where it is going, we end up rooting and deeply caring for the both of them.
Carlos Magalhães
Super Reviewer
What starts out slow with plenty of family drama between the fights soon becomes one of the most engaging and exciting sports films of recent years. You get to know the characters and start to care about them. After the training montage at half-time, the film has you by the throat and doesn't let go. Even if you're hardly interested in mixed martial arts fighting, like me, the characters, storytelling and cinematography draw you in, shake you and won't let you go until you leave the ring as exhausted and happy as the winner of the big tournament. The film's smartest decision is to keep away from stereotypes in its characterization of the main fighters, therefore making it impossible to predict the outcome. A film that starts and ends with a song by The Nation can't be bad, right? This one's even excellent.
Sports movies are tired. Have been for a while. You can see each beat coming and it all feels like a colour by numbers experience. Most of the time. Then there's Warrior. Two brothers come together in the same Mixed Martial Arts competition for entirely different reasons to win the cash prize. It's a pretty simple plot, and that really is it. But it's the way that such a simple story has an emotional kick like a horse which is really impressive. Each of these brothers is damaged in their own way and neither of them have really found a way to deal with the psychological distress their father has caused since the day they were born. As the movie unfolds, the extent of this damage becomes clearer and the relationship with their father more strained and defined. This emotional tension is ratcheted up notch by notch until it reaches breaking point, coincidentally at the same point that the action is at its climax. It's this beautiful choreography of emotional engagement and intense and furious action which puts this film above others of the same ilk. Gavin O'Connor's handling of these usually opposing forces is masterful; he maintains a familiar handheld style throughout proceedings but his restraint during purely dramatic moments shines through after the chaotic capturing of the action. He lingers on scenes in hotel bedrooms when a son comforts his father or when a husband makes difficult decision because it's reflective of their mindset. He blasts through the action because it's fast and brutal and over in fleeting glimpses. That being said, the fights and camerawork are choreographed so well that you're never straining to see what's going on. It's in capturing the feel of these situations with equal ease and control that O'Connor proves his mastery of the craft. O'Connor's influence extends to the script as well. Being one of the principal writers on the film, he keeps the focus on these two brothers at the core of the story. Bringing the two of them together on a contrivance would feel like a cheat, but the way both brothers are entered into the contest feels natural and plausible, allowing the audience to maintain some illusion of reality throughout the film. Their status in the competition feels earned as well. Brendan (Edgerton) is almost a joke by the time he steps in the ring. We may be fans of his but the audience at Sparta are not. He's there after someone is forced out due to injury and he's never seen as more than a low level threat. Tommy (Hardy), on the other hand, is the contest's dark horse; a brutal, terrifying hulk who has no restraint and shows no mercy as he smacks down opponent after opponent. O'Connor is able to show us the two of these very separate characters with subtle character definitions and hints along the way, and eventually shows us the juxtaposition between the two; the contrasts, their strengths and most importantly, their weaknesses. Tommy is strong because of his anger. Brendan finds strength in the ones he's fighting for. Their climactic fight is not just a fight, it's brother vs brother with no real notion of who will actually win. And these two brothers are played with quiet brilliance by Tom Hardy and Joel Edgerton. Hardy may now be known for playing Bane, but his performance is here is so impressive; restrained, dark and furious and completely believable that it's a crime he didn't gain his fame from Warrior. He's so powerfully withdrawn in quiet moments and understandably antagonistic in others, less understandably in others, but he plays it all with such conviction that it's astounding to see. The flip side of his coin is Edgerton who turns in an equally impressive performance as the more relatable Brendan. He doesn't have the haunted anger to play with as Hardy does, but his soulful, open performance makes him a pleasure to watch. When the two clash for the first time, meeting on a beach for a painful, angst-filled conversation, it's amazing to see the two of them finally sharing the screen. Spending most of their time apart during the film is a bold decision, but it pays off after seeing stunning duets like this one. But the film isn't sole property of these two. Nick Nolte plays their father, and his is a towering performance, full of regret and the pain of knowing the mistakes he's made and having his attempts to fix them rejected time and time again by his sons. His alcohol-fuelled breakdown is one of the more painfully beautiful moments of the film. His occasionally cloying attempts to reconnect clashes beautifully with Tom Hardy's stoicism and the two of them are wonderful together. Jennifer Morrison also has a part to play, as the life we have to hope for on Brendan's behalf. If she wasn't as charismatic as she is, our attachment to Brendan's cause wouldn't have the strength it needs to make a connection. Thankfully, she manages to maintain a realistic sense of their relationship as well as keeping up a level attraction and support for her husband that helps us to understand what he must be going through. The music is not the main focus of the film, which is good because the original score is nothing special. Besides a few moments where Beethoven has been remixed into an action film score with great results, it's mostly stuff we've heard before. But the soundtrack is wonderful, with a great choice of sleepily beautiful acoustic based track with an amazing use of Today by The National in the final fight which adds a huge amount of emotion to a moment which is already supercharged with it. Even though it's technically a sports movie, few of that genre have been put together as well as Warrior has. Gavin O'Connor's ability as both a writer and director shines through in every moment. Sure, it's great to see Tom Hardy pummel someone into unconscious with the self-assured savagery of a gladiator, but it's moments when we see Tommy sitting alone in his dressing room; cut off from any real connections, or Paddy's joy at barely glimpsing his grandchildren through a doorway that the film really shines. Defining Scene: Tommy and Brendan fight and The National starts playing. Cue the waterworks.
Thomas Bowler
Super Reviewer
Warrior Quotes
| | |
| --- | --- |
| Tommy Conlon: | I like what you've done with the place.There's not much of a woman's touch around here. |
| Paddy Conlon: | Yeah, well...no more women for me, Tommy. |
| Paddy Conlon: | Yeah, well, no more women for me, Tommy. |
| Tommy Conlon: | Yeah, it must be hard to find a girl who can take a punch nowadays. |
| | |
| --- | --- |
| Paddy Conlon: | Ahab! You Godless sonofabitch! You stop the ship, you Godless sonofabitch! |
| | |
| --- | --- |
| Frank Campana: | You don't knock him out. You don't have a home. |
| | |
| --- | --- |
| Tommy Conlon: | Tiptoeing around here like a beggar - with your little cup. |
| Tommy Conlon: | Tiptoeing around here like a beggar with your little cup. |