Big Fan
(2009)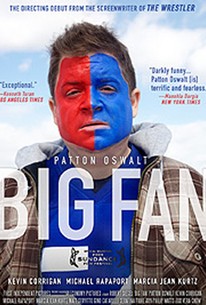 TOMATOMETER
AUDIENCE SCORE
Critic Consensus: Featuring Patton Oswalt's sympathetic portrayal, Big Fan humorously and effectively captures the dark and lonely world of a sports fanatic.
Movie Info
Paul Aufiero, a 35-year-old parking garage attendant from Staten Island, is the self-described "world's biggest New York Giants fan." He lives at home with his mother, spending his off hours calling in to local sports-radio station 760 The Zone, where he rants in support of his beloved team, often against his mysterious on-air rival, Eagles fan Philadelphia Phil. His family berates him for doing nothing with his life, but they don't understand the depth of his love of the Giants or the responsibility his fandom carries. One night, Paul and his best friend Sal spot Giants star linebacker Quantrell Bishop at a gas station in their neighborhood. They impulsively follow his limo into Manhattan, to a strip club, where they hang in the background, agog at their hero. Paul cautiously decides to approach him, stepping into the rarefied air of football stardom -- and things do not go as planned. The fallout of this chance encounter brings Paul's world crashing down around him as his family, the team, the media and the authorities engage in a tug of war over Paul, testing his allegiances and calling into question everything he believes in. Meanwhile, the Giants march toward a late-season showdown with the Eagles, unaware that sometimes the most brutal struggles take place far from the field of play.
News & Interviews for Big Fan
Critic Reviews for Big Fan
Audience Reviews for Big Fan
Big Fan is a humorous look at the lonely life of a fanatic sports fan, and first-time director Siegel manages what seemed to be almost impossible: to make a poignant portrayal of a loser who only thinks of football, a task that is helped mostly by Oswalt's terrific performance.
Carlos Magalhães
Super Reviewer
Robert D. Siegel, bring a criative screenplay that show to the audience the empty and lonely life of Paul Aufiero, Patton Oswalt in a very good acting, a sport fanatic, just like others fans. Big Fan, is a terrific independant dark comedy that, make me want see the film from the beginning to the end. Fresh.
Lucas Martins
Super Reviewer
½
Big Fan is a minor, dark indie masterpiece, full of honesty, drama, pathos and painful humor. Writer/director Robert Seigel shows immense talent as an observer of obsessive losers who have the audience's absolute empathy, despite of - or because of --their utter lack of self awareness. . Be warned if you're expecting another Adam Sandler Waterboy - it's NOT essentially a comedy, let alone a Hollywood one. In a blurb on the box, you might be misled into thinking that this is light fare about wacky sports fans. The same material could have easily been spun in a way similar to other light Hollywood comedies about obsessive fans like Fever PItch. That disconnect is likely why the film didn't much of an audience in its theatrical release and those who have seen it, expecting wacky Sandler-like mayhem, must have ejected the DVD disc before hitting the half hour mark. The film captures a culture of obsessive football fans who define their entire lives by the ups and downs of their team (The New York Giants in this case). Their own limited lives matter far less to them than the fate of their heroes. Paul, the lead character is self defeating. He runs away from any chance of getting out of his mother's house and his job as a parking lot attendant at the age of 35 and lives to call in to the sport phone in shows as the most super Giants fan of them all, his only accomplishment. That and getting the stuffing beaten out him, almost killing him, at the hands of the Giants' star QB. The casting of all supportive roles is stellar, from Paul's suffering mother to his Sancho Panza buddy in Giants obsession, to his sleazy brother, a personal injury lawyer. The film is grungy, and not aesthetically beautiful, but is appropriate to its dreary setting and characters. It's also paced beautifully. After this and the Wrestler (an excellent film, but I think this film is more interesting, despite Mickey Rourke's star power) I greatly anticipate what Robert Seigel will do next. Not to mention the star: Oswalt's performance is full of honesty and courage, he is very gifted with the pathos as well as the funny. Every twist and turn of Big Fan is surprising and fresh, and pays off. I thought the only misstep in Seigel's script was a hasty and apparently violent ending (last ten minutes) that didn't quite compute. In addition, no one changes or learns any lessons, which is possibly true to life, but not as interesting dramatically.
Josh Morris
Super Reviewer
Big Fan Quotes
| | |
| --- | --- |
| Paul Aufiero: | Eagles suck. |
| | |
| --- | --- |
| Jeff Aufiero: | How do you get a concussion when you have no fucking brains? |