Salt
(2010)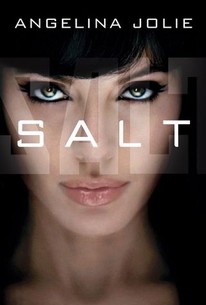 TOMATOMETER
AUDIENCE SCORE
Critic Consensus: Angelina Jolie gives it her all in the title role, and her seasoned performance is almost enough to save Salt from its predictable and ludicrous plot.
Movie Info
As a CIA officer, Evelyn Salt (Jolie) swore an oath to duty, honor and country. Her loyalty will be tested when a defector accuses her of being a Russian spy. Salt goes on the run, using all her skills and years of experience as a covert operative to elude capture. Salt's efforts to prove her innocence only serve to cast doubt on her motives, as the hunt to uncover the truth behind her identity continues and the question remains: "Who Is Salt?"-- (C) Sony
News & Interviews for Salt
Audience Reviews for Salt
Pretty thrilling chases, but just a standard espionage flick with no real substance. Orlov killing Mike to test Salt's allegiance seemed like it could go somewhere, but Salt flinches just enough for the audience to notice but apparently not enough for Orlov to, which is unsatisfying for the love angle and too easy for the test.
Alice Shen
Super Reviewer
Don't know why but actually I pretty like this movie, especially because of Jolie factor and the element of surprise that this movie about to gave although I can predict it by the beginning of the movie.. But as a movie that made for entertainment only, this movie quite entertaining especially for men to look some action plus Jolie!
Sanjaya 丘耀文
Super Reviewer
Somewhat enjoyable action thriller, Salt for me was one of those films that I didn't expect much from, but came out of it enjoying the film quite a bit. Although not a perfect affair, the film is quite good for what it does, and it's a highly entertaining action film that will surely grab your attention from the first frame onwards. I expected to really not enjoy the film, but to my surprise, the idea here is quite good, despite the fact that it's nothing ever too original. If you can suspend that, you might like the film. Compared to other films that Angelina Jolie has made over the years, this is one of her better ones. Compared to the likes of The Tourist and Mr & Mrs. Smith, I much preferred this film. The story moves at a fast pace, and there is enough action here to thrill the most hardened action film fan. Salt is a good film, a film that has exceeded my expectations and the cast here deliver some impressive performances to boot. There are better action films out there, but Salt isn't that bad either. I personally feel that it deserves a bit more praise because it's a fun, entertaining film that is worth seeing if you enjoy the genre. Angelina Jolie is quite good here, and despite the script's apparent flaws, Jolie makes things work, and in turn Salt ends up being an engaging action film well worth seeing despite its imperfections. The film's isn't as bad as what critics have said about it, and for what it is, it's an engaging action thriller that despite its flaws manages to be a fun film to watch in order to kill time.
Salt Quotes
| | |
| --- | --- |
| Winter: | [rattled by underling] "Sir"? Do I look like a "sir" to you? |
| Winter: | Sir? Do I look like a "sir" to you? |
| Evelyn Salt: | From head to toe. I'm surprised he didn't call you "Your Majesty". |
| Evelyn Salt: | From head to toe. I'm surprised he didn't call you "Your Majesty." |
| Winter: | I like the ring of that. I think I'd prefer "Your Majesty". |
| Winter: | I like the ring of that. I think I'd prefer "Your Majesty." |
| | |
| --- | --- |
| Evelyn Salt: | I need to call my husband! |
| | |
| --- | --- |
| Evelyn Salt: | I need to call my husband! |
| | |
| --- | --- |
| Peabody: | How many are there like you? |
| Peabody: | How many more like you are there? |