Paraiso Travel
(2007)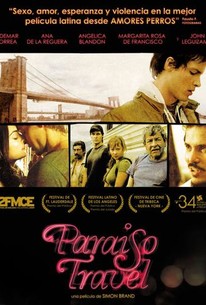 Movie Info
A girl who will risk it all to get into the United States and the boy who will follow her through hell to get into her pants embark on the biggest adventure of their lives in director Simon Brand's adaptation of author Jorge Franco's bestselling novel. Reina and Marlon are both from middle-class neighborhoods in Columbia. While Reina longs for the day she will escape to the United States in search of the American Dream, Marlon bides his time in hopes of winning Reina's heart. When Raina announces that she has discovered a way of getting into the United States illegally, Marlon reluctantly agrees to join her on the journey. Shortly after arriving in New York City and checking into a ramshackle hostel, Reina disappears into the city. Now left to fend for himself on the unfamiliar streets of Queens, Marlon is forced to navigate this shocking new world on his own. During his search for Reina, memories of the pair's harrowing journey into the U.S. come flooding back to Marlon. Just as Marlon is beginning to feel hopelessly lost, however, a stuttering sadomasochist (John Leguizamo) who rules over a dank crash pad takes the frightened boy under his wing. But with every step Marlon takes towards a new life, his old obsession with Reina threatens to drag him down into the abyss. Despite the fact that he once dreamed of building future together with Reina, Marlon is about to discover that sometimes you have to lose what you want in order to discover what you really need. ~ Jason Buchanan, Rovi
Critic Reviews for Paraiso Travel
Audience Reviews for Paraiso Travel
½
Paraiso Travel showed the struggles Colombian immigrants have to endure as they want to make a living in the United States. The movie portrayed the true reality that people face when they decide to come illegally, which was far from being paradise. The lead character Marlon was lucky enough to find heartwarming people of his own country who took care of him. These Colombian people are like that, they take care of each other. But that's actually another story. The movie showed that this was the land that turned his girlfriend Reina into someone totally different for him. It was a real enjoyable movie. Great performance also by John Leguizamo.
Daisy Maduro
Super Reviewer
Entertaining, mildly funny but extremely overrated travesty about immigration. It tries to be moving without succeeding, displaying little intellectual or emotional complexity. the subject is trite, hackneyed. The characters are caricatures, the direction is too "clean" not a single speck of the so-called realism that I guess they tried to achive, no surprise the director used to make music videos, because every scene is treated with the same shallowness, falseness of that medium.
Pierluigi Puccini
Super Reviewer
Paraiso Travel Quotes
There are no approved quotes yet for this movie.