Five Minutes of Heaven
(2009)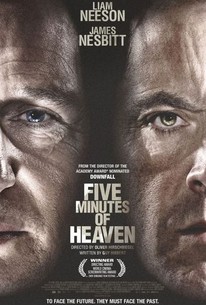 TOMATOMETER
AUDIENCE SCORE
Critic Consensus: Oliver Hirschbiegel's dramatic take on "The Troubles" is an actor's showcase -- and Liam Neeson and James Nesbitt are more than up to the challenge.
Five Minutes of Heaven Photos
Movie Info
The idea of reconciliation between two men from opposite sides of a life-and-death struggle is perhaps impossible or even incredibly naïve. Five Minutes of Heaven, a film that tracks the lives of two men from the same town but different sides of the Irish political divide, is unlike any other on this subject. One man, Alistair, is a killer; the other, Joe, is the brother of the man he killed. One feels he dare not ask for forgiveness; the other feels incapable of giving it. And so the scene is set in this masterfully conceived drama, written by Guy Hibbert (Omagh) and perfectly directed by German filmmaker Oliver Hirschbiegel. The leads are Liam Neeson and James Nesbitt, and they are both superb. But the film's careful construction is what transforms this from predictable to transcendent. This isn't a work of expiation or guilt; neither does it seek a simplistically dramatic finale. It is, like its subject, the portrait of a process; and the hatred and trauma that are its foundation are such that their genesis took years. Five Minutes of Heaven is replete with an almost-exquisite sensitivity and quest for understanding. It is perhaps impossible to erase the past, but we are better off for encountering it with the kind of passion and insight emanating from a true work of art.
Critic Reviews for Five Minutes of Heaven
Audience Reviews for Five Minutes of Heaven
½
An intensely dramatic and visceral thriller with a terrific script, masterful direction and powerhouse performances with it's two leads. James Nesbitt and Liam Nesson are superb. Neeson carries the pain and acceptance of his characters actions. Nesbitt is a revelation, one of his finest and most riveting performances. A true tour de force. It feels as it was written for the stage and unfolds nicely with tension and surprise. A breathlessly original piece of work.
I originally thought that this was going to be just another one of those Northern Ireland in religious turmoil movies....but it wasn't. The concept of this movie dealing with the after effects of the senseless killings that went on is really original. I found this movie very interesting. Liam Neeson is wonderful in it, as usual, which really was a plus.
Cynthia S.
Super Reviewer
Or how to turn an interesting premise into such an insipid film, Five minutes Of heaven is just as shallow & simple-minded as Little's preachy monologue in front of the camera, Vengeance, Guilt, ... nothing is portrayed well here, Little is supposed to be a man who feels some sort of guilt but Neeson basically plays a zombie, sometimes you wonder if he actually believes in what he is saying or he is just selling his preachings and Nesbitt on the other hand overacts a bit, Overall the film sometimes exaggerates like the whole thing with the mother blaming everything on the kid and downplays it when it should depict more, And yeah Griffin is suddenly moved by Little's one sentence?, It's a huge disappointment specially for the director of "Downfall" & "the Experiment"
Five Minutes of Heaven Quotes
There are no approved quotes yet for this movie.