Brothers
(2009)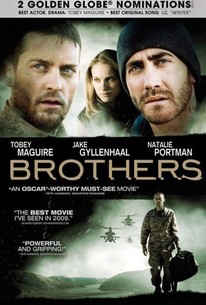 TOMATOMETER
AUDIENCE SCORE
Critic Consensus: It plays more like a traditional melodrama than the Susanne Bier film that inspired it, but Jim Sheridan's Brothers benefits from rock-solid performances by its three leads.
Movie Info
Jim Sheridan's film, adapted from Susanne Bier's 2004 movie, concerns Captain Sam Cahill (Tobey Maguire), a Marine who receives orders to ship out for yet another tour of duty in Afghanistan. But before he leaves his supportive wife, Grace (Natalie Portman), and his two elementary-school-age daughters, Sam picks up his black sheep brother, Tommy (Jake Gyllenhaal), who has finished a prison stretch for robbing a bank. While overseas, Sam's aircraft gets shot down and he's thought dead. Back home, irresponsible Tommy gets his act together in order to be an anchor for Grace and the girls, and the two grow emotionally -- though not physically -- close. As the family finally begins to make peace with their grief, soldiers rescue POW Sam and he returns home. Sam's experiences overseas have caused him such emotional turmoil, he has a difficult time adjusting to civilian life, and soon his fear and paranoia manifest themselves in the form of jealousy for his brother's relationship with his wife. Sam Shepard and Mare Winningham co-star as the brothers' father and stepmother. ~ Perry Seibert, Rovi
Critic Reviews for Brothers
Audience Reviews for Brothers
I can't even imagine being Sam Cahill and going through what he did. This is a powerful movie and necessarily is left unfinished.
Sam Cahill: You know what I did to get back to you? You know what I did?  "There are two sides to every family" I've seen Brothers twice now, and my love for it went down a little on the second watch. I noticed a few scenes that were overplayed and badly written. Still, this is a really good drama and anti-war film. It shows the effects of war on a man and how he struggles coming back to normal everyday life. There's good character development at the beginning with Sam. We see how much he loves his family and how happy he is around them. That makes his lack of openness when he comes back have a little more power. The film is powerful despite the melodrama. This is one of the few films I've seen where the melodrama doesn't take away from the power of the situation.  The film is about a man who goes to Afghanistan and is supposedly killed. In reality, he is a prisoner of war who goes through unspeakable things. Back in America, his family is comforted by his brother. When he comes back he isn't the same man, and he also has some accusations to throw around about his brother and wife's relationship. The story is really interesting and drove by good performances from Tobey Maguire, Jake Gyllenhaal, and Natalie Portman. Portman gave one of the best performances here, up to that point in her career. There's something about her that makes her seem very real, and allows her to nail this performance with a great deal of believability.  This has been criticized a lot for being overly melodramatic. I can't say that it isn't either, but I never felt the melodrama rose to a level that hurt the film. There's a lot of screaming, crying, and smashing, but the story is emotional and so are the characters. Are some scenes overwritten for a tearjerking effect? Yeah. Still, I don't think the overall power of the film was hurt by the melodrama, but that is just my opinion on the matter. That's also coming from someone who normally hates melodrama. This is one of those rare occasions where it didn't ruin a film for me. It isn't going to win any subtlety contests, but based on the central performances and the sheer power of the story and how the events unfold before our eyes; I think it is good. Good actors doing good work in a film that is worthy of the performances. I can't say the movie is perfect, but overall it works and gets the point across.
Melvin White
Super Reviewer
An incredibly well-acted movie. Toby Maguire, Natalie Portman, and Jake Gyllenhaal were all terrific. They took a cheesy, weak screenplay and made it believable and interesting. However, the movie suffers from overly simplistic pacing, cliche plot, and a lack of depth in the plot. Once again, great acting. It is good to note that though this movie has many many flaws, there is character development that genuinely gets us invested.
Brothers Quotes
| | |
| --- | --- |
| Grace Cahill: | Why are you trying to kill yourself? |
| Capt. Sam Cahill: | It's Joe Willis. I killed Joe Willis. |
| | |
| --- | --- |
| Terrorist: | Kill him or I'll kill you! |