One Week
(2008)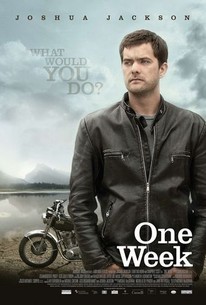 Movie Info
"One Week" explores the motorcycle odyssey of a young man on an idiosyncratic quest for the meaning of life.
Critic Reviews for One Week
Audience Reviews for One Week
'One Week' poses a simple question: "What would you do if you had just one week to live?" When the main character in this movie finds out that he has been diagnosed with cancer he goes through the typical stages of depression and finally embarks on a mission to find out what's important to him in life. This movie tackles the idea of the typical individuals situation; the idea that many of us fail to really capture and go after what is important in life and rather we 'settle' and live lives of repetitiveness and routine. Sometimes it takes tragedy or sometimes it's just too late when we finally figure out what we truly want out of life. For an independent film, I thought this movie was absolute amazing; its plot, visuals, actors, and even the questions posed are all fairly basic yet it reaches out and touches emotional hot-spots that many movies fail to do. I would recommend this to basically anyone! More particularly anyone who likes those motivational moments where you suddenly feel alive and start questioning what you want to do with your life, what your missing, and perhaps the biggest enlightenment who and what is most important to you. And it can all be brought on through one simple question tackled by 'Ben Tyler'. "What would you do, if you just had One Week to live?"
Bobby Hobbs
Super Reviewer
Filmic consideration on the ever popular musing "if you only had one week to live, what would you do?" (A popular variant I hear alla time: "what if you won the lottery?") Herein our hero travels west through Oh Canada via Norton Commando, an opportunity for mucho scenery and examination of life choices. Acoustic guitar heavy alt music and nice voice-over work by Campbell Scott complete this innocuous pause to think about what really matters.
Kevin M. Williams
Super Reviewer
½
One Week tells the story of a man named Ben who discovers that he has Stage 4 Cancer. This soon affects his life, family, and fiance. To escape his sadness, he goes trek to Western Canada on a motorcycle to spend his final weeks, days, or months. I stumbled across this film on Netflix under the "Romance" section which I think is misleading. There is a romantic relationship in the film but thats not the whole thing. The cover also looked like an entirely different film. The poster on the left of this review is more accurate. This is a very good and underrated film. Its a simple film with an easy plot to follow and it does not get all over the place. Little-known actor, Joshua Jackson, does a great job as the lead role and knows how to carry the scenes where only he is visible well. The rest of the cast is terrific. The narrator was great and funny as well. Because of its simplicity, this gets a 90% but for a 100% it'll need to get rid of one thing: the narrator. He was necessary at some points and at others, he was not. Some scenes were told in music and pictures like a Kubrick film and it should have been like that. Is it dramatic? Yes. It did warm my heart at the end. One Week is a simple and very good indie Canadian drama. Simplicity is one signal of a good film in my opinion. I'm suggesting this film to Simon M., The Creep, Brantastic16, Wisenheimer, and anyone who want to see this great drama. "I'm just searching for moments."
Bentley Lyles
Super Reviewer
One Week Quotes
| | |
| --- | --- |
| Narrator: | " When you get those rare moments of clarity, those flashes when the universe makes sense, you try desperately to hold on to them. They are the life boats for the darker times" |
| Narrator: | When you get those rare moments of clarity, those flashes when the universe makes sense, you try desperately to hold on to them. They are the life boats for the darker times. |