Despicable Me
(2010)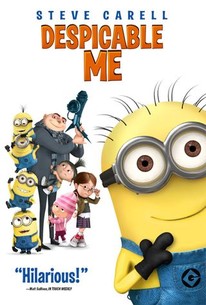 TOMATOMETER
AUDIENCE SCORE
Critic Consensus: Borrowing heavily (and intelligently) from Pixar and Looney Tunes, Despicable Me is a surprisingly thoughtful, family-friendly treat with a few surprises of its own.
Movie Info
A mysterious criminal mastermind has stolen one of the pyramids in Egypt, sparking a fit of jealous envy in evil genius Gru (Steve Carell), who hasn't managed to make headlines since he and his minions swiped the Times Square JumboTron years back. Ever since Gru was a little boy, he dreamed of going to the moon. Now, if Gru can just build a rocket and get his hands on a powerful shrink-ray, he can cement his reputation as the greatest thief who ever lived by stealing the Earth's satellite right out of the sky. But immediately after Gru heists the shrink-ray, the cunning super-nerd Vector (Jason Segel) swoops in and snatches it right out of his hands. Now, in order to claim the moon, Gru must first reacquire the weapon from Vector. Armed with the knowledge that his nemesis has a mean sweet tooth, Gru adopts cookie-selling orphans Margo (Miranda Cosgrove), Agnes (Elsie Fisher), and Edith (Dana Gaier) and commissions a new line of cookie robots from the evil Dr. Nefario (Russell Brand), his personal weapons specialist. But as Gru and his diminutive yellow minions prepare to carry out the biggest heist in history, something strange happens. Gru discovers that the three little girls who have come into his life are much more than simple pawns. They actually seem to care about Gru, and it turns out the scheming evildoer makes a pretty good father. When Gru realizes that his upcoming moon mission clashes with a ballet performance by the girls, he must decide what's more important -- being a present parent or cementing his nefarious reputation once and for all. ~ Jason Buchanan, Rovi
Critic Reviews for Despicable Me
Audience Reviews for Despicable Me
½
At a time when we had the likes of 'Toy Story 3' and 'How to Train Your Dragon', a time when Pixar and Dreamworks ruled supreme (Pixar winning of course), along came Illumination Entertainment and gave us this supervillain animation. The plot is pretty unoriginal really, jumping on the over used superhero theme. A supervillain is getting old and rusty, losing his flare for evil, at the same time a younger new supervillain threatens his status. So he devises a plan to steal the moon, the greatest feat of supervillainy he can come up with. But in order to carry out this plan he must enlist (adopt) the help of three very young little girls. The whole superhero concept has been popular now for quite some time and in CGI animation its no different. Along with other similar flicks such as 'The Incredibles' and 'Megamind' the whole idea is beginning to feel a little swamped I can't deny. This film mainly centres on the supervillains point of view, how he lives, his daily habits, his job being an evil mastermind etc...a nice angle that was original until later in the year when 'Megamind' came out. At his side are an army of little yellow minions that look like old 8-bit videogame characters not too dissimilar from Pac-Man. Now at first these little guys are quite amusing with their prat falls, face slapping and general simple minded tomfoolery, but it wears thin fast. Their whole routine is the same all the way through the film and I'm sure even kids may tire of it. I'm not even sure what the hell they are suppose to be seeing as all other characters in this film are human. I really liked the initial idea of this film and the start, I loved Gru's big gothic house squeezed in between a line of regular houses. I liked his outrageously over sized supervillain vehicle, his little demon-like dog and the interior of his lair which was like a cross between James Bond and Hammer horror. Lots of ingenious gadgets, secret doors/trap doors etc...in a thick gothic German expressionist-like design. Unfortunately the film becomes way too sickly and sweet for me (yes I know its for kids mainly). After he adopts the three little girls and starts to realise he enjoys them being around, losing sight of his evilness, it just becomes quite lame frankly. The film isn't sure what it wants to be or where its going, even the humour begins to lag. In the end all we're left with is a semi decent animated film which does look glorious no doubt, but with a plot that can't decide which route to go down. None of the characters are particularly interesting or fun, Steve Carell doesn't help make the evil Gru any more memorable and the old scientist character that works with him is dreadful! He's actually quite scary looking I think, plus with that awful cockney accent from Brand...utter fail. Very wishy washy kids film that struggles to keep you interested and in no way competes with the big guns. Clearly trying to be zany and full of fresh ideas but you can see its not really worked out, its not a bad film, its just rather flat and anti climatic. How on earth this film was popular I don't know, the sequel was no surprise but I just don't see the hype over this.
Phil Hubbs
Super Reviewer
Am I the only one or is there anyone else who didn't laugh at all watching this? I felt like slitting my wrists with so many awful physical gags and ridiculous jokes, and it is unbearable to see all that excessive fluffiness and sentimentality. Please, Universal, don't try to be Pixar.
Carlos Magalhães
Super Reviewer
Although the characters are all kinda annoying, the little girls are cute and ground what is otherwise daft Warner Brothers style violent Americana. What really makes this animation though is a really punchy soundtrack that sticks in your head.
Ross Collins
Super Reviewer
Despicable Me Quotes
| | |
| --- | --- |
| Agnes: | It's so fluffy I'm gonna die. |
| | |
| --- | --- |
| Bob the Minion: | Whaaaaaaatt!? |
| | |
| --- | --- |
| Gru: | You are a beautiful woman. Do you speak Spanish? |
| Miss Hattie: | Do I look like I speak Spanish? |
| Gru: | You have a face... Como un burro. |
| Miss Hattie: | Oh! Well, thank you! |