Deadgirl
(2008)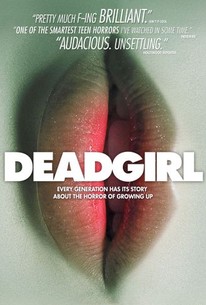 Movie Info
Ditching school on a lark in favor of downing beers and raising hell at an abandoned mental hospital, two high school kids from the wrong side of the tracks make a horrifying discovery that will test their morals and serve as the catalyst for a dangerous battle of wills. Rickie (Shiloh Fernandez) and JT (Noah Segan) are the kind of kids more likely to be caught smoking in the boy's room than studying in the library, so when they skip out of class to explore a crumbling mental hospital it seems like just another days of mischief and mayhem. What seemed to be business as usual becomes anything but, however, when the two boys break through a rusted door leading to a dark boiler room and discover a naked woman tied to a gurney and covered in plastic. Since the door to the boiler room was rusted shut it seems unlikely that any living soul has inhabited the space for years, yet when the body shows signs of life JT immediately suggests that he and his pal should have a little naughty fun with their helpless captive. But while Rickie may be somewhat reckless, his moral compass still points in the right direction and he wants nothing to do with such sordid affairs. Later, when word of Rickie and JT's discovery gets out, tensions flare as events take a darkly disturbing turn.
Critic Reviews for Deadgirl
Audience Reviews for Deadgirl
Deadgirl is fucked up, at least conceptually. In terms of execution, it doesn't really take any chances. Two horny, beer loving, but less than alpha-male friends find a girl in an abandoned hospital who seems like she can't be killed. In other words, she's a zombie, but they don't know it. JT, one of the boys, decides this girl is the perfect version of a sex toy, and pretty much spends all his time having some depraved but naughty fun. Rickie is bent on impressing his childhood crush, who is dating one of the boys who bullies him. He doesn't agree with JT, but is soon caught in between. There's a lot of opportunity here for a movie that could probably tackle interesting issues like women as objects of desire, sexual attraction, teen isolation. Nope. It does none of those. It goes for the gore, but then forgets to go all the way with its concept. Thus, you're left with a film that is predictable and lifeless. It ends up being just another ordinary zombie film, which is a shame because it's trying to be everything else but that.
Edward Boxler
Super Reviewer
½
No other recent horror film has had the disturbing quality that Deadgirl possesses. This film concept is one of the most shocking and depraved ideas that I have seen in a genre film, and it's a refreshing take on the genre. This is a well acted and directed film, one that is a riveting, thrilling picture a film that boasts powerful atmosphere and tense moments that make the film quite unforgettable. The cast are quite good in their performances and the film's story is well thought out, and steadily manages to unfold in order to create the maximum terror effect. The subject itself is one that stretches the limits of shock and terror and it's a film that will surely make an impact on you whether you like it or not. Deadgirl is an expertly executed experiment in thought provoking horror, a film that dares you not to look away and will make you think about what you have just seen. It's always a good thing when a horror film pushes the limits and takes no prisoners in the way the material shocks it viewers. With that being said, Deadgirl will surely raise eyebrows. Deadgirl is a well crafted horror yarn, one that is entertaining from start to finish, as well as being very disturbing in the way it uses its ideas. For what it is, Deadgirl succeeds at being a truly shocking horror film that would stick with you. The film may not be perfect, but it works on many levels and for what it is, it's well worth seeing if you want a superbly crafted horror yarn that is one of the most original genre films in years.
½
A disturbing but memorable tale that explores the very darkest parts of the unfairer sex. Deadgirl is all about two guys who find a dead girl in an abandoned mental asylum. Only thing is, she's more undead than actually dead. One of the guys decides to make deadgirl, as she becomes affectionately known, his own private plaything. He doesn't see her as a person, but a toy. Something he can beata nd sexually abuse to his heart's content. Soon others get wind of this little supernatural woman and the boys must face becoming foul and wretched 'humans' or do the right thing. It's a bizarre film that doesn't settle on a genre. Instead it would much rather just make you uncomfortable. Having a monster movie where the monster is chained up allows man to become the monster through his own devices. Despite the out there premise, you still have to stretch your disbelief in order to accept certain characters' motivations and actions, which can stop the pacing dead. But with some hypnotic camera work and soft music, this is an original gem that is a confrontational joy to watch.
Luke Baldock
Super Reviewer
Deadgirl Quotes
There are no approved quotes yet for this movie.