Run Robot Run!
(2006)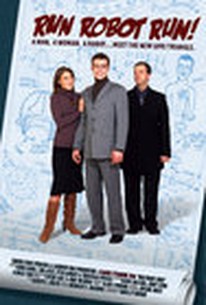 Movie Info
A guy attempting to win the heart of his pretty coworker finds himself competing for her affections with a smooth talking robot in this quirky, sci-fi romantic comedy. Kent is a nice guy with a boring job. Lately, he's developed a crush on one of his colleagues - an attractive office worker named Allison. Trouble soon arises, however, in the firm of a handsome new robot employee. Before long, even Allison is getting flirtatious with the sociable cyborg. Enlisting the aid of his techno buddy Garth, Kent schemes to show up his robotic nemesis by proving that machine is no competition for man - a stance easier stated than proven. ~ Jason Buchanan, Rovi
Critic Reviews for Run Robot Run!
Audience Reviews for Run Robot Run!
This is a comedy with too much of a romantic twist thrown in. Kent, the hero of our story, gets replaced at work by a friendly android, and things take a turn for the worse when the mechanical man attracts the attention of his lovely coworker. The android's artificial nature isn't really played up in the film since its budget was too limited for any sight gags, but does provide a few laughs with its sometimes witty dialogue. Unfortunately the story squanders much of its potential by not putting a robotic spin on annoying office politics, like those satirized so well in Office Space and The Office. The film loses steam as Kent desperately tries to find a way to sabotage the android to get him out of the picture, which boils down to the notion that only humans are truly creative. After that, there's an agonizingly long section where the android teaches Kent how to loosen up and become more human, which didn't provide any laughs at all. I did watch all of its 1 hour and 22 minute running time, which was long enough for the director to end it with a textbook movie cliche. Bad director, bad! This review is a repost from my website: www.plasticpals.com
Robotbling -
Super Reviewer
Run Robot Run! Quotes
There are no approved quotes yet for this movie.