Carriers
(2009)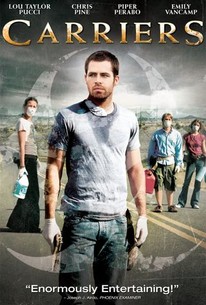 Movie Info
An apocalyptic tale of a viral pandemic that sweeps across the United States, and four fleeing friends who discover that they are far more dangerous to one another than any airborne pathogen.
Critic Reviews for Carriers
Audience Reviews for Carriers
½
A film about survival after a viral pandemic outbreak. It was more of a drama than a horror film, so if you're expecting zombies etc, you'll be disappointed. It touches on a few issues of trust when everyone has to look out for themselves, a very bleak film overall. The cast was good and it's well made, you might just be a bit misled by how it's advertised.
½
After a viral pandemic wiped out the majority of mankind, four friends are crossing the USA to what they hope to be a remote former holiday resort. What easily could have been just another zombie or contagion thriller actually avoids most stereotypes in the first half and makes quite a few smart and interesting decisions. The pictures of abandoned homes and country highways are accordingly impressive. The main problem soon turns out to be that the main character is rather unlikable, which the film uses rather smartly to ask uncomfortable questions about what such a situation does to people and which decisions they would have to make. The ending is a tad anticlimactic but at least doesn't take the easy way out. So quite a recommendable take on the topic. Must see for fans of post-apocalyptic settings.
½
I thought Carriers was going to be a pretty cool movie. A virus has swept across America and 4 friends are trying to avoid becoming victims to the virus. It's been done before, but I still like good additions to the already overflowing amount. But Carriers isn't one of them. The actors weren't horrible but they didn't have much to work with. The dialogue was very bad and the connection between the characters was lacking. A movie like this shouldn't be boring and Carriers for me was.
Melvin White
Super Reviewer
Carriers Quotes
There are no approved quotes yet for this movie.