Command Performance
(2009)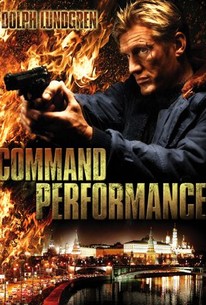 AUDIENCE SCORE
Critic Consensus: No consensus yet.
Command Performance Photos
Movie Info
Action icon Dolph Lundgre directs and stars in this film that finds the actor cast as a drummer who must become a hero. As the openers for a chart-topping singer at a Moscow show, Joe and his band think fame is just within reach. However, a group of terrorist has something else in mind for the concert and capture the singer -- as well as the Russian president and his daughters. Joe might be used to pounding drums, but now he has to pound the bad guys in order to save the ruler and the three women.
Critic Reviews for Command Performance
Audience Reviews for Command Performance
'Die Hard' in a concert hall. Dolph's best action flick for quite some time if you ask me, its nothing special or original of course with a basic terrorist hijack plot and Dolph (the drummer!) being the only dude to save the day but its a good fun gun totting, fast paced film which does look like it had reasonable funding/backing. Don't expect anything super as this is still a straight to DVD film but its certainly better than all his other cheapo films.
Phil Hubbs
Super Reviewer
It's Die Hard at a rock concert. A real tour de force action film. A riveting, sizzling, wickedly cool, frequently stylish and hard-rocking adrenaline-fulled thrill-ride. A huge jolt of electrifying fun. An explosive and exhilarating action-packed thriller that hits all the right notes. Dolph Lundgren always seems to be at his best when he writes and directs his own projects, then he is the action hero we want to see and always delivers the goods with brute force and a whole whack of fun. Lundgren is at his best. This film totally rocks the house and does not miss out on the blood. It has plenty of pulse-pounding thrills, awesome soundtrack and jack-hammer excitement from start to finish. It will keep you on the edge of your seat right to th explosive finish. A surprisingly smart, well-crafted and very entertaining movie that you are going to want to watch it again. A hard-core action classic.
Dolph Lundgren has been cranking out testosterone-charged action movies pretty much non-stop since the late Eighties. Most of these have been straight to home video, but for fans of the genre, he?s consistently delivered solid, high octane entertainment. Only a handful of his movies have been "good" - and even fewer could be called "great" - but they?re usually fast-paced, fun, and full of gunplay, explosions and muscular stuntwork. In recent years, he?s even started to direct some of his own flicks, and has proven to be pretty decent action filmmaker. One of his most recent directorial efforts is Command Performance, which, like most B-action movies, has a very easy to describe, "high concept" plot. In this case, it?s "Die Hard at a rock concert," with Lundgren as an ex-biker-turned-rock drummer, who is playing with the opening act at a Moscow concert appearance of an American pop diva. Attending the concert is the Russian president and his teenage daughters ? and a group of heavily armed terrorists. Going in, you know pretty much what to expect and Lundgren doesn?t disappoint. It?s not long before Dolph and the pretty pop star are running around the stadium picking off bad guys while the authorities are stuck impotently outside. The plot is simple and familiar, but there are a few small surprises, some decent performances, a little wit, and perfectly satisfactory action sequences. Dolph?s direction is efficient and brisk, and the fights and stunts are all staged and shot with clarity and energy. It may be a routine actioner, but it?s a well-made routine actioner.Worth a weekend rental
David Ladd
Super Reviewer
Command Performance Quotes
There are no approved quotes yet for this movie.