I Sell the Dead
(2008)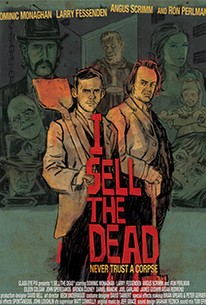 TOMATOMETER
AUDIENCE SCORE
Critic Consensus: A horror comedy that's almost as chilling as it is funny, I Sell the Dead relies on its dark humor and offbeat charm to overcome its low budget shortcomings.
Movie Info
Adventure and horror merge in this morbid tale of two 18th century grave robbers who make it their mission to hunt down the undead abominations that refuse to accept their rightful place in the ground. Arrested by towering holy man Father Duffy (Ron Perlman) and threatened with the guillotine for robbing graves with his mentor, Willie Grimes (Larry Fessenden), apprentice ghoul Arthur Blake (Dominic Monaghan) agrees to make a full confession in exchange for a steady flow of whiskey. Arthur's story begins when he was just a young boy stealing jewelry from corpses in order to eat. Later, Arthur formed a partnership with Willie, and the pair went to work ensuring the walking dead learned to rest in peace. Now, with the specter of death looming ever closer, Arthur agrees to tell his tale to the very man charged with deciding his ultimate fate. ~ Jason Buchanan, Rovi
News & Interviews for I Sell the Dead
Critic Reviews for I Sell the Dead
Audience Reviews for I Sell the Dead
Vampires, Zombies, Aliens and Ron Perlman. Director Glenn McQuaid seems intent on force-feeding his audience a steady stream of camp with mixed results.
Randy Tippy
Super Reviewer
I Sell The Dead is the story of two grave robbers who recall their days of grave robbing before being hanged. The film is slow, and seems to take forever to reach the end. But despite this, the film is quite enjoyable and fun to watch. The actors give fine performances and this is a fine debut for Glenn Mcquaid. If you love a low budget zombie flick, pick this impressive Horror Comedy up, despite its slow pacing it's a strong film with a few memorable and funny scenes. I sell The Dead is a terrific little film that will definitely appeal to zombie fans. It's a different take on your average zombie film, and it's very well done. The acting in I Sell The Dead is decent enough for this type of film and the film in parts is fairly creative, taking into account that Horror is pch stale. The film is of course in perfect, but it manages to be pretty good and entertaining. The cast features some impressive names, including Phantasm actor Angus Schrimm and Lord Of The Rings actor Dominic Monaghan. I Sell The Dead is a not a flawless film, but is a fair enough film to consider watchable. I enjoyed it and I thought that Glenn Mcquaid did a fine job directing this zombie comedy. This film is much better than most big buhorror films that make it into theatres and is very original, which is something that lacks in todays horror films. People are afraid of trying something inventive, and I Sell The Dead is most certainly that. A very good horror comedy that at times feels like it could be better, but in the end is pretty good considering it's a low budget picture.
Haha. Well. I really had no idea what to expect from this movie, but I was very entertained. It's quite well made. I really do tend to like that subtle British humor, and this movie was all that. A funny horror flick that didn't try to get too stupid and silly.
Cynthia S.
Super Reviewer
I Sell the Dead Quotes
There are no approved quotes yet for this movie.