Fifty Dead Men Walking
(2008)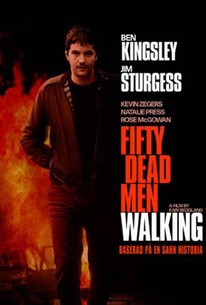 TOMATOMETER
AUDIENCE SCORE
Critic Consensus: Though somewhat uneven in places, Fifty Dead Men Walking is a gripping portrayal of Ireland's violent history, carried by the strong performances of its lead actors.
Fifty Dead Men Walking Photos
Movie Info
Set in Belfast in 1980 where the Irish Republican Army is waging an all-out insurgent war against the British occupation, Martin McGartland is a young small-time Belfast hustler recruited by a wily British intelligence agent to infiltrate the IRA. Martin quickly uses his natural instincts as a con man to get inside the IRA and starts feeding information to the British, saving hundreds of lives in the process. But with each successful mission, Martin becomes increasingly in danger of being caught and exposed. The IRA is ruthless, and once an infiltrator has been exposed he becomes a "dead man walking." As Martin becomes consumed by his double life, and his British handlers threaten to sell him out if he refuses to continue his counter-intelligence work, he is plunged into a dangerous game in which the stakes could not be higher.
Critic Reviews for Fifty Dead Men Walking
Audience Reviews for Fifty Dead Men Walking
½
It's The Departed meets Spy Game. A first-rate, stylish and adrenaline-charged edge of your seat thriller. It packs pure powerhouse thrills and suspense from beginning to end. A masterpiece. A heart-pounding, shocking, spellbinding and absolutely breathtaking movie that you just have to see. An unforgettable and darkly realistic thriller of the finest kind. A highly stylized and explosively well-made film. Jim Sturgess and Ben Kingsley give electrifying performances, they have raw and exciting chemistry. Sturgess gives a breakout performance that shines of movie star caliber. Kingsley is brilliant, showing why he is one of the most professional and commanding actors around.
A decent thriller based on a true story of a member of the IRA who passed information on the the British special service. I don't think it helped that I didn't know what the film was about and it took about 20mins into the film to get a good idea of what was going on. It's well acted and an interesting story especially as based on real events. However the isn't a great deal of action and it is a little long as well. ok but not great.
½
Cast: Ben Kingsley, Jim Sturgess, Rose McGowan, Kevin Zegers, Nathalie Press, Nick Dunning, William Houston, Gavin O'Connor, Nathan Hughes, Kris Edlund Director: Kari Skogland Summary: Belfast hood Martin (Jim Sturgess) is recruited by a British agent (Ben Kingsley) to infiltrate the IRA during the height of the Northern Irish conflict and quickly becomes embroiled in a dangerous game that could cost him his life if his secret is found out. As other informers are brutally murdered, Martin starts to look for a way out, but his handler urges him to stay undercover in this taut political thriller based on a true story. My Thoughts: "This is a very well done film, with a great cast and script. Having it based on true events is what makes this story that much more compelling. Jim Sturgess, did a great job and held his own with Mr. Ben Kingsley, who without having to say it but I will, was brilliant. I love Kevin Zegers as well and thought he pulled off the Irish accent very well. It's a very gritty film and with the way it begins, it definitely catches you and holds to the end. You know it comes to a bloody ending from the beginning. So that was a smart way to hold the audiences attention til the end. The story is just sad on both sides. Being American, I don't have a full understanding of the Northern Irish conflict with the British. But I do know that, from the film, Martin McGartland, was just trying to save lives on both ends. He made a great sacrifice with not only his life, but of his families too. *SPOILER* The scene where he's sitting in the car and watching his girlfriend and son knowing it will be his last time seeing them, well that was just heartbreaking. *END OF SPOILER* It's definitely an interesting watch. So see it if you haven't."
♥˩ƳИИ ƜѲѲƉƧ♥
Super Reviewer
Fifty Dead Men Walking Quotes
There are no approved quotes yet for this movie.