Train
(2009)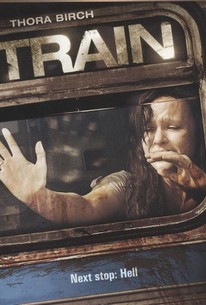 AUDIENCE SCORE
Critic Consensus: No consensus yet.
Movie Info
A group of collegiate American wrestlers encounter a cunning killer while riding the rails though Eastern Europe. When Alex (Thora Birch) and the athletes party so hard that they miss the train to Odessa, a kindly stranger suggests that they take an alternate route. With no other options, the hung-over group boards the next train and hopes for the best. But these weary travelers may never make it to their destination alive, because somewhere on that train lurks a ruthless killer, and tonight he's out for blood.
Critic Reviews for Train
There are no critic reviews yet for Train. Keep checking Rotten Tomatoes for updates!
Audience Reviews for Train
Basically "Hostel" on wheels.
Jacob Palacio
Super Reviewer
Surprised this isn't better known, although it does seem to have been a straight to DVD release. After seeing a trailer I gave it a whirl. It is extremely gory, bloody, violent and full of torture in the same vein, pardon the pun, as Hostel. The overall story is similar and kinda a mix of that and Turistas. A group of American wrestlers on a trip to Eastern Europe miss the rest of their group and need to take the train to meet up with them in the next city. So this will well and truly keep the gore fans happy. Overall it's an ok horror film if nothing new or different.
Good god what a nothing movie. Just absolutely nothing. Yes it's a bad movie, but even more than that there's really nothing going on in this movie at all. It would have been better had there been an actual storyline in here. Not that it would have made the movie good, it still would have been bad, but it would have been an improvement. And sure you pretty much figure out what's going on 20 minutes into the movie, but for some reason whoever wrote this movie waited until the end of the movie to reveal what was going on. And it's done in such a poor way that it makes the person who wrote this movie look like a fool for not even trying to include some reason as to why these people are doing this. If they had said it from the beginning the characters could have questioned why they were doing this and kill all these people. See, that wasn't so hard now was it? It would have given your villains a reason and your main characters something to investigate whilst they all get killed. Also this movie has some of the worst sound effects of any movie I've ever heard. Just awful. Skip this fucking movie.
Jesse Ortega
Super Reviewer
Train Quotes
There are no approved quotes yet for this movie.