Kick-Ass
(2010)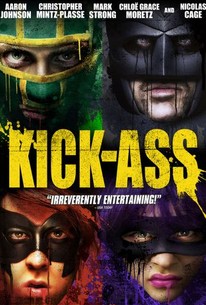 TOMATOMETER
AUDIENCE SCORE
Critic Consensus: Not for the faint of heart, Kick-Ass takes the comic adaptation genre to new levels of visual style, bloody violence, and gleeful profanity.
Movie Info
Adapted from Mark Millar's hyper-violent comic book of the same name, director Matthew Vaughn's (Layer Cake) vigilante superhero film tells the tale of an average New York teenager who decides to don a costume and fight crime. Comic book geek Dave Lizewski (Aaron Johnson) may not have good coordination or special powers, but that doesn't mean he isn't a fully capable crime fighter. After purchasing a flashy wet suit on the Internet, Dave starts busting up baddies with nothing but brute force. He calls himself Kick-Ass, and he can take a beating as good as he can dish one out. Before long, Kick-Ass has become a local sensation, and others are following his lead. Big Daddy (Nicolas Cage) and Hit-Girl (Chloe Moretz) are a father-daughter crime-fighting duo who have set their sights on local mob heavy Frank D'Amico (Mark Strong). They're doing a decent job of dismantling Frank's sizable underworld empire when Kick-Ass gets drawn into the fray. But Frank's men play rough, and his son, Chris (Christopher Mintz-Plasse), is about to become Kick-Ass' very first arch nemesis. When Chris assumes the persona of Red Mist, the stage is set for a superhero showdown that could spell the end of Kick-Ass once and for all. ~ Jason Buchanan, Rovi
Critic Reviews for Kick-Ass
Audience Reviews for Kick-Ass
Daniel J DeMersseman
Super Reviewer
½
Aaron Johnson is a very talented and charismatic young actor, and his character's adorable anti-charm, combined with the awesome fighting skills of Chloe Moretz's Hit-Girl and the film's comic book style and bloody violence, makes this an endlessly fun superhero movie.
Carlos Magalhães
Super Reviewer
The world of the visually violent comicbook movie probably first kicked off with 'Blade' way back in 1998 (honourable mention to the 1989 Punisher), although this film wasn't really ultra violent and filled with profanity. After that along came 'Watchmen' which offered a very realistic take on the superhero genre and was pretty gritty. Since then there hasn't really been that much until this graphic novel adaptation popped up with huge amounts of real violence and bucket loads of naughty words. It was like 'Robocop' for the comicbook genre. The actual plot isn't any different from your average superhero flick. Its basically an origins tale showing how a young 'Peter Parker-like' teen gets to grips with his life and sets out to become a superhero after making his own suit. There is no emotional death of guardians to push our hero along here admittedly, this guy just wants to fight crime but ends up getting in way too deep. The angle for this creation is the fact its set within the real world where people do get hurt and superheroes don't actually have super powers. Its a concept that may feel totally milked these days but back in 2010 it wasn't...that much. The character of 'Kick-Ass' is just a young male teen in a scuba suit with modifications and a couple batons, when he starts out he gets stabbed and beaten almost getting himself killed. The characters he meets up with later in the form of 'Big Daddy' and 'Hit-Girl' are also merely regular people but with good fighting and weapon skills. The bad guys they fight are normal everyday thugs, pimps, drug dealers, robbers and mobsters, its simply the real world. This is why the film is such a breathe of fresh air (for the time) and so intense. When we see fights going down we know its all for real and the heroes can't rely on any super powers or super weapons, anything could happen technically. Sequences such as...Hit-Girl kills a whole bunch of black drug dealer dudes with many amputations, Kick-Asses initial bloody brawls, when Big Daddy and Kick-Ass get captured and are beaten with bats and of course the excellent adrenaline rush when Big Daddy takes down mob boss 'Frank D'Amico's' warehouse of goons, are all brilliantly directed and visually slick but red raw with bone cracking realism. There are of course your typical superhero-esque visuals at times, some over the top martial arts and the odd moment that will challenge your suspension of disbelief. I guess that is bound to happen in most flicks of this nature just to add that tiny bit of fun fantasy, but in general this film is down to earth, seedy and gritty as hell. Despite the fact most of the characters are just kids, the film certainly isn't for kids with limbs and bullets flying, blood spurting everywhere, Hit-Girl swearing like there is no tomorrow and some nut crunching beat downs. The scene where Big Daddy is killed is especially dark and quite harrowing really, its shocking at first. Most of the characters aren't anything too special really. The stand outs obviously being Johnson as Kick-Ass who crosses between the obligatory comicbook character geek and a reasonably tough superhero (at times) really well. Moretz grabs your attention merely down to her age truth be told where as her character feels more like a lethal Christmas elf. But its clearly Cage as Big Daddy who wins the day for me, that brilliant Adam West sounding voice and 'Batman-esque' outfit, quite amusing. I would like to see a film centred around his character. I must also quickly mention that this entire idea may well have been pinched from the 1999 goofy superhero comedy spoof 'Mystery Men'. That film is all about a team of superhero wannabes that don't actually have any super powers but must somehow defeat a supervillain who also has no real super powers. The film is set within a realistic universe that visually copies and slightly mocks Gotham City but no one in that world actually has any super powers. So 'Kick-Ass' follows suit but goes down the violent route with dark comedy. Its a controversial movie for sure, what with the very young Moretz playing the loose lipped Hit-Girl and dressing in that slightly disturbing school girl outfit near the end. Oh and the fact she goes around slicing and dicing bad guys willy-nilly accompanied by a weird light-hearted music track at one point. Add to that a film that portrays all these youngsters getting involved in such brutal violence yet the film almost makes it look like fun n games in silly outfits. It did raise eyebrows when it came out and honesty I can see why, but personally I think these are the things that make the film stand out giving it some epic originality. I loved how they stuck to the source material (relatively), I loved seeing Kick-Ass starting out and getting his head kicked in, seeing him slowly get somewhere even though he isn't actually any good then being stupid enough to create his own Myspace. The film really does the origins thing well and makes you invested in the hero, you find yourself really wanting him to succeed and at the same time seeing how risky this field of work would be in reality (in case you ever thought about being a hero). The only thing that let it down for me was the very ending where things got a bit too superhero-ish and comicbook-like losing the dark realism. Easily one of the best graphic novel/comicbook adaptations and it wasn't watered down, they kept it as it should be.
Phil Hubbs
Super Reviewer
Kick-Ass Quotes
| | |
| --- | --- |
| Dave Lizewski/Kick-Ass: | Fuck you, Mr. Bitey! |
| | |
| --- | --- |
| Frank D'Amico: | You ruined my buisness! You killed every single fucking guy in my payroll! God, I wish I had a son like you.Time for a family reunion. |
| Dave Lizewski/Kick-Ass: | Hey, why don't you pick on someone your own size? |
| | |
| --- | --- |
| Dave Lizewski/Kick-Ass: | Die Mother fuckers! |
| | |
| --- | --- |
| Mindy Macready/Hit Girl: | Show's over, motherfuckers |
| Mindy Macready/Hit Girl: | Show's over, motherfuckers. |