The Tournament
(2009)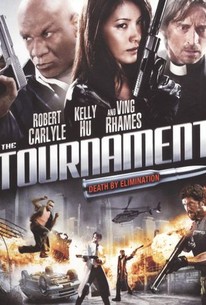 AUDIENCE SCORE
Critic Consensus: No consensus yet.
Movie Info
The world's best assassins converge upon the streets of a small Scottish town to compete in a deadly tournament in which the last killer standing gets a million-dollar prize while wealthy thrillseekers watch a live video stream and gamble on the outcome. Robert Carlyle (Trainspotting) stars as a local priest who becomes an unwitting participant in the grisly contest in this adrenaline-fueled action film from director Scott Mann.
Critic Reviews for The Tournament
All Critics (3) | Top Critics (1) | Fresh (1) | Rotten (2) | DVD (2)
High energy hokum that goes nowhere but does it at high speed.
With this plot gimmick, it should have been more fun than it is.
The Tournament is definitely no great shakes in the plotting and scripting departments, however it is exceedingly gory, brutal, violent and over-the-top. It is what it is.
Audience Reviews for The Tournament
½
Explosions and the promise of all the best assassins being brought together you'd think for an all out battle but just limps on.
Film Crazy
Super Reviewer
Death by elimination Entertaining movie even though it could have been alot better. It had many errors in the movie, alot of scenes the clock/timer was not properly going as it should, many details just like that were noticeable which weren't that important but they were there to at least distract me. The plot and the characters could have been more explained including there origin, not all but the most important. Overall the movie is entertaining with tons of action and sometime's even funny. Every seven years a tournament takes place in an unsuspecting town where 30 of the world's deadliest killers battle to see who is best and for the ten million dollar cash prize. Returning champion Joshau Harlow (Ving Rhames) is back because he has been informed that one of this year's contestants is responsible for the death of his wife. Each contestant has a tracking marker surgically implanted inside them so that they (and the viewers) can track their opponents. A parkour style assassin (Sebastien Foucan from Casino Royale) cuts out his tracker and ditches it in a cup of coffee which is then drunk and swallowed by alcoholic Father Joseph Macavoy (Robert Carlyle). Chinese assassin Lai Lai Zen (Kelly Hu) realizes quickly that Joseph Macavoy is not a player and decides to keep him alive.
A simple if entertaining action film. A plot that has been done quite a few times now, this time based around a group of assassins taking over a small town every 7 years for a battle royale to find the last one standing. Tons of action in this, some good fights, chase scenes and stunts and quite a bit of blood. The standard of the cast including Ving Rhames, Ian Somerhalder of Vampire Diaries, and the pace of the film raise it above average. Very enjoyable eye fodder!
The Tournament Quotes
There are no approved quotes yet for this movie.