Not Forgotten
(2009)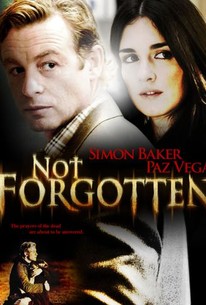 Movie Info
Jack Bishop (Simon Baker) draws on the powers of La Santa Muerte to find his missing daughter, Toby. His life was perfect until his dark past returned with a vengeance. Now the thing that Jack loves most has been taken away. With the help of a sheriff and two FBI agents, Jack searches the seedy underbelly of Mexico City for his daughter and discovers that there's no escape from the grip of La Santa Muerte. Paz Vega and Simon Baker star in a supernatural thriller directed by Basic co-producer Dror Soref.
Critic Reviews for Not Forgotten
Audience Reviews for Not Forgotten
½
In "Not Forgotten," Amaya(Paz Vega) and Jack Bishop(Simon Baker), a banker, are parents of Toby(Chloe Moretz), from Jack's first marriage. As much as she dislikes playing soccer in the border town of Del Rio, Texas, she does so to please her father. One day during practice, Toby disappears and the only clue that Casper(Michael DeLorenzo), Amaya's cousin and acting sheriff, can find is a sneaker on the river bank. "Not Forgotten" is a dull movie that depicts the Texas side of the border as idyllic while Mexico is nightmarish, punctuated by nonsensical flashes. And it would probably be offensive if it was interesting in any way which is strange considering all of the occult and bare flesh on display. And then there is also numerology which is brought up when Yogi Berra is mentioned followed by a flash of the number 8 but then we already knew the Yankees are evil.
Not Forgotten Quotes
There are no approved quotes yet for this movie.