The Girl in the Park
(2008)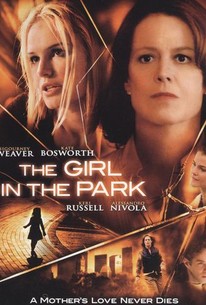 Movie Info
A socially isolated woman still haunted by the disappearance of her three-year-old daughter 15 years ago obsesses over the prospect that a troubled young woman whom she has recently befriended may in fact be her long-lost daughter in The Lake House director/screenwriter David Auburn's affecting psychological drama. Sigourney Weaver stars as the long-grieving mother, and The Devil Wears Prada's Kate Bosworth stars as the mixed-up teen who becomes the object of the dejected woman's hopeful fixation.
News & Interviews for The Girl in the Park
Critic Reviews for The Girl in the Park
Audience Reviews for The Girl in the Park
Sigourney plays a woman who is haunted by the disappearance of her daughter from the park when she was 3 years old. She helps a troubled young girl and convinces herself that she is her long lost daughter. Good cast.
Candy Rose
Super Reviewer
A mother goes to the park with her little daughter. The mother looks away for a short time and her daughter is gone and she can't find her. Years later this mother gets divorced, has a difficult relationship with her son and still clings to the hope of finding her daughter again. She then meets a homeless teenage girl and she suspects this is her lost daughter and ends up spending a lot of time with her and trying to make up for all the time she was apart from her. This is a very catching and heartbreaking story. Weaver is at her best in this movie.
Naughtia Nahazhina
Super Reviewer
Enjoyed this, much to my surprise! After the picky mood I have been in with films today, I really couldn't see a film about a missing child doing it for me when I couldn't even get interested in a film starring Amanda Seyfried. I only really pulled this out as I had been leant this dvd a while ago and needed to return it. I figured I would put it on for a few minutes, then move onto the next one in the pile. At least I could say I gave it a go, right? Amazingly this story really did suck me in. It is by no means fast paced, or especially exciting, just a quiet little film about a women who's chid is abducted, and how she has gotten on with her life for 16 years never knowing what happened to her daughter. She meets a troubled young girl named Louise who is the same age her daughter would have been now,and becomes convinced it is her missing Maggie. You don't find out until the end if it is or not, but honestly it barely matters by then. This is a really sweet story about two damaged women and how they help each other. Nicely cast - I was surprised to see Keri Russell is not in this as much as I would have thought (or liked), but Kate Bosworth is really good as Louise - I usually do find her an okay actress, I am not sure why she is so panned all the time. Sigourney looks a little old at the beginning of this film, to have such a young child, but her age works fine in the plus 16 years part. Brandon Sexton I didn't recognise - wow, he has changed! Not a movie for all I would think, but may well be worth a look if you enjoy dramas.
Nicki Marie
Super Reviewer
The Girl in the Park Quotes
There are no approved quotes yet for this movie.