The Mighty Celt
(2005)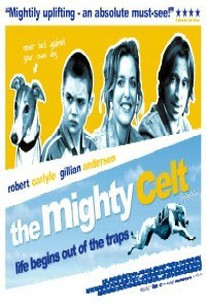 Movie Info
A young boy from a broken home learns the harsh realities of life after adopting an awkward greyhound and befriending a mysterious figure from his mother's past in this tender coming of age story starring Gillian Anderson, Robert Carlyle, and Tyrone McKenna. Donal (McKenna) and his single mother Kate (Anderson) share a small home in Belfast. When their finances start to dwindle, Donal goes to work for local dog trainer Good Joe (Ken Stott) to help make ends meet. Despite the benevolence that his name implies, Good Joe is anything but, and has a reputation for going back on his word. So when Good Joe recognizes Donal's special connection to dogs and offers him the "Mighty Celt" if the canine can win three races in a row, the boy is understandably wary. Things start to look up, however, as the races get underway and a man named O (Carlyle) returns to strike up a warm friendship with Donal. It's obvious from the onset that Good Joe is suspicious of O, and Donal's mother Kate makes no secret of the fact that she would rather O had never returned to town. In the aftermath of a dramatic revelation that will change the lives of all involved, young Donal learns that not all stories have a happy ending.
Critic Reviews for The Mighty Celt
Audience Reviews for The Mighty Celt
A delightful, yet powerful story. Touching. Heartbreaking. Well done...really could use some subtitles, though.
Cynthia S.
Super Reviewer
½
Tyone McKenna portrays Donal, a Belfast teenager who lives with his single mother, Kate (Gillian Anderson) and has an after school job working for local greyhound trainer, Good Joe (Ken Stott). When Donal sees Joe preparing to kill one of the greyhounds becuase he thinks the dog will only win the races it wants to win, Donal offers to train the dog. A bond between boy and dog ensues and after naming him The Mighty Celt after a character in Irish mythology, Donal strikes a deal with Joe... he can have the dog as long as it wins three races, otherwise it belongs to Joe to do with as he wishes. Alongside this, a figure from the town's past reappears in the form of O (Robert Carlyle) and enters Donal's and Kate's lives. When Joe becomes jealous of Donal's relationship with O, he goes back on his arrangement which leads to tensions exploding between Donal, O and Joe. I found out about this film when I visited Belfast roughly 18 months ago. I went on a guided pub walk and visited one of the locations used in the film (where O and Kate go out for a drink). Once I found this out, I had to get the film and although it is a quiet drama which doesn't set out to change the world, it is a good drama. Gillian Anderson delivers another good performance as Kate and her scenes with Tyrone McKenna are believable of those of a mother and her son. Her scenes with Carlyle are also effective as he tries to break down the barriers of woman whose previous relationship has broken down and whose brother was killed in a paramilitary operation involving O. Robert Carlyle is solid as usual in the role of O. He underplays the character and you do see a man who has become sickened by the violence of the "Troubles" after years on the run, of a man who has basically lost touch with a world that's moved on and a man who is now at peace with himself. Ken Stott is cast as an effective antagonist in the role of Good Joe and it's apparent from the first frames of the film that Joe is anything but good and Stott is powerful in the handling of his final scenes in the film. But it's Tyrone McKenna who is the star of the film as Donal. He effectively builds an on screen rapport with all three leads and with "The Celt". As I said it's a quiet drama but a solid drama which asks a very pertinent question for today's society towards the film's conclusion, who is the braver man - the one who embraces violence or the one who walks away.
Theta Sigma
Super Reviewer
The Mighty Celt Quotes
There are no approved quotes yet for this movie.