Far Cry
(2008)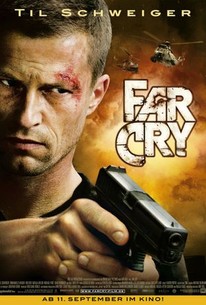 AUDIENCE SCORE
Critic Consensus: No consensus yet.
Movie Info
A hardened seaman and a dogged reporter become trapped on an island with a mysterious scientist, a ruthless band of mercenaries, and a vicious pack of unidentifiable creatures in BloodRayne director Uwe Boll's seventh video game-to-screen adaptation. A team of mercenaries has been attacked on a remote island in the Pacific Northwest, and as mysterious reports begin to emerge from the chaos, a veteran Seattle newspaper editor sends top reporters Tom Moore and Valerie Constantine to the scene in hopes of getting the scoop on the story. Shortly after arriving on the island under the guidance of ship captain Jack Carver (Til Schweiger), the trio is attacked by mercenary commander Maria Sanchez. Though Tom is killed, Valerie and Jack manage to stage a daring escape and quickly begin to bicker over their plan as Maria's murderous soldiers fast begin gaining ground. Despite Captain Jack's plan to locate his friend Emilio and get off of the island as quickly as possible, reporter Valerie remains determined to investigate the strange situation and get as many details as possible for her upcoming story. Later, when Jack, Valerie, and Emilio are captured and taken to the secret lab of genius scientist Dr. Krieger, Valerie is extended an invitation to join the doctor in announcing his latest findings to the world. Though it finally seems as if Valerie has gotten just the scoop needed to make her story, the situation quickly turns chaotic when one of Dr. Kreiger's creatures escapes from the lab and sets out on a murderous rampage. ~ Jason Buchanan, Rovi
News & Interviews for Far Cry
Critic Reviews for Far Cry
All Critics (2) | Fresh (0) | Rotten (2)
An unambitious and limited "action" film filled with stupid dialogue, bad jokes, desperate characters, and repetitive and boring sequences of violence. [Full review in Spanish]
I realized this guy belongs in an Ernest movie, not a violent R-rated action film.
April 15, 2009 | Rating: 1.5/5
Audience Reviews for Far Cry
The modern day Ed Wood strikes again as Uwe Boll adapts yet another video game for the big screen with his hordes of Nazi gold lol!! this outting isn't too bad to a degree, the location and action isn't too bad and looks fine in a cheap 'Bond' type of way but that's about it. The plot is presumably the same as the game (only played it once) but I doubt it as Boll tends to wander, either way its a 'Universal Soldier' clone but no where near as good, the acting is acceptable, just about, with Udo Kier in his element as a B-movie mad scientist, Chris Coppola as a Dom Deluise/John Candy wannabe sidekick (shameful), Til Schweiger somehow lured into the film and Boll film favourite Michael Paré again.....dunno how Boll does it! The whole thing is pretty by the books really, there's nothing new or exciting here, its just a simple fast food, drive by flick that was rushed out and has been totally lost in time never to return, but it is better than the rancid 'BloodRayne' flicks.
Phil Hubbs
Super Reviewer
Dr. Krieger: You're just a simple boat man. Jack Carver: I didn't say anything about being simple. ... Ok, so this was another "film" from this generation's Ed Wood, Uwe Boll. This time he tackles the video game Far Cry. Nothing but laughs come out of this movie and not from the forced comedy injected into this movie. All of the entertainment came from the baffling choices this film makes, certainly showing that Boll will never grow as a filmmaker. Based on what I know about the premise, this movie basically ditches everything except the idea of having a retired Special Forces guy shoot things on an island (which isn't tropical like the game, instead its Canada). So Til Schweiger (who was freaking awesome in Inglourious Basterds) is terribly placed here as the hero, Jack. He is a boat driver, who gives a lift to a reporter, played by Emmanuelle Vaugier, who needs to inspect the mysterious goings on of an island. This island is headed by Udo Kier's ridiculous scientist character, who is making super soldiers. Little does he know that blowing up Jack's boat was a big mistake, because now he has Special Forces all up his ass. Shoot, Shoot, Explosion, dialog, exposition, boat chase, comic relief, shoot, shoot, dead, credits. I was initially intrigues because the two Uwe Boll films I have seen (House of the Dead and Bloodrayne) are at the very (very) least passably laughable, and looking at the trailer, this film looked like it could echo the joy from those. I was not mistaken in that respect, as this film was hilarious to watch with a friend, and using Netflix Watch Instantly certainly helped, however there's no denying that this movie failed on every possibly level. Performances are terrible, story is ludicrous (even for a video game adaptation), the dialog ranges from lousy to punch that guy in the mouth, the action is poorly handled, etc. To sum up: Complete crap. Emilio: I'm just the food guy!
Aaron Neuwirth
Super Reviewer
½
Mindless violence with no real point, the lead actress is terrible and Til Schweiger is too good an actor to be wasting his time in tripe like this.
Far Cry Quotes
There are no approved quotes yet for this movie.