Chevolution
(2008)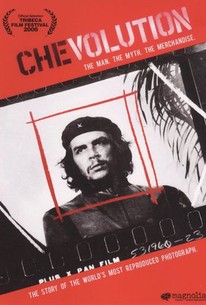 Movie Info
On March 5, 1960, Che Guevara, one of the architects of the Cuban revolution, attended a memorial service for seventy-five men who died while explosive cargo was being unloaded from a ship in the Havana harbor. Photographer Alberto Korda snapped a picture of Guevara at the event, and while it went unpublished at the time, in the late Sixties an Italian publisher, Giangiacomo Feltrinelli, asked Korda's permission to reproduce the image of the then-martyred revolutionary leader. Korda agreed, and within a few years his portrait of Che, wearing a beret and looking with determination to some point in the distance, became one of the most famous photos in the world. Korda didn't mind seeing the photo appear in unlikely places, from banners at protests to T-shirts, but in 2000 he filed suit against the producers of Smirnoff vodka after they used the picture in a magazine advertisement, arguing that he never intended it to be used for commercial purposes. Filmmakers Trisha Ziff and Luis Lopez trace the strange journey of Korda's portrait of Che, from revolutionary symbol to advertising logo and an iconic but little-understood image often adopted by young people who aren't sure who the man is, in the documentary Chevolution. The film includes interviews with actors Antonio Banderas and Gael Garcia Bernal, both of whom have played Guevara on screen, and Tom Morello of the Leftist rock band Rage Against The Machine, who have used the Che portrait on their T-shirts.
Critic Reviews for Chevolution
Audience Reviews for Chevolution
Interesting attempt to explore the phenomenon of Che Guevara from a different angle. Chevolution is trying to track the legendary revolutionary's life, right from the early stages to his meeting with Fidel Castro leading to his association with the Cuban revolution and his interactions with photographer Alberto Korda, whose photograph made Che an icon. It is said to be the most reproduced photo in the world! I have to say that I was a little bit disappointed. I was one of the lucky ones who visited the Che Mausoleum in Santa Clara in Cuba and his life was much richer than you could see from this documentary. Yes, there is interesting inquiry on how the revolutionary, who lived his life for social justice, was converted to an icon stamped on beer bottles, and there are few interviews of Che admirers like Sinn Fein, president Gerry Adams, and actor Antonio Banderas but there was no in depth study of who is Ernesto "Che" Guevara. The documentary was more interested what has the photo of him, taken at a funeral for victims of an explosion in Cuba's Havana Harbor, come to mean... My favourite part in the Chevolution was a statement of an American man wearing a T-shirt with Che's image: "Isn't he the guy who invented mojitos?" I'd like to say: this movie is made for people like that!
Chevolution Quotes
There are no approved quotes yet for this movie.