Che: Part One (The Argentine)
(2009)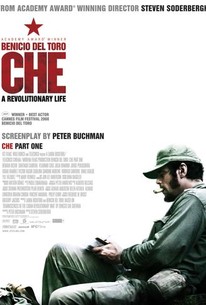 TOMATOMETER
AUDIENCE SCORE
Critic Consensus: Though lengthy and at times plodding, Soderbergh's vision and Benicio Del Toro's understated performance ensure that Che always fascinates.
Che: Part One (The Argentine) Photos
Movie Info
Nearly 40 years after Che Guevara's execution in Bolivia, director Steven Soderbergh retraces the life of the iconic Cuban revolutionary in this nearly four-and-a-half-hour saga. Part 1 begins on November 26, 1956, as Fidel Castro (Demián Bichir) sails into Cuban waters with 80 rebels in tow. Among those rebels is Argentine doctor Ernesto "Che" Guevara (Benicio Del Toro), a man who shares Castro's dream of overthrowing corrupt dictator Fulgencio Batista. As the struggle gets under way, Guevara proves an indispensable part of the revolution due to his firm grasp on the concepts of guerilla warfare. Guevara is heartily embraced by both his comrades and the Cuban people, and quickly rises through the ranks to become first a commander, and ultimately a revolutionary hero. Part 2 of the saga begins with Guevara at the absolute peak of his fame and power. Disappearing suddenly, Guevara subsequently resurfaces in Bolivia to organize a modest group of Cuban comrades and Bolivian recruits in preparation for the Latin American Revolution. But while the Bolivian campaign would ultimately fail, the tenacity, sacrifice, and idealism displayed by Guevara during this period would make him a symbol of heroism to followers around the world. Part 1 and Part 2 were screened together as Che at the 2008 Cannes Film Festival, and also received a limited theatrical release under that same title in U.S. theaters later that same year.
Critic Reviews for Che: Part One (The Argentine)
Audience Reviews for Che: Part One (The Argentine)
Soderbergh's political biography about Che Guevara and his involvement in the Cuban Revolution is expertly directed and even feels like a documentary, but is also frustrating as it shows him as a nearly flawless hero and avoids any of the controversies surrounding his character.
Carlos Magalhães
Super Reviewer
A sprawling, epic look at the life of Che Guevara through the lense of Steven Soderbergh. Del Toro is brilliant in the lead.
Graham Jones
Super Reviewer
½
I should have hated this film. I feel like the legend of Che has become so distorted & romanticized, that whatever your cause, you can invoke the name of Che to further it. On top of this, every college student with access to a Hot Topic has donned a shirt with the figure's face on it, without the benefit of knowing the context of the original movement. The last thing I needed was further ambiguity. However, Soderbergh's film seems to revel in this ambiguity. Che was a zealous ideologue, ardent supporter of justice (no matter how perverse his idea of justice became), and a romantic. I feel as though Soderbergh captures this very well and made really the only film you could make about such an enigmatic figure. One devoid of understanding. Were Soderbergh to take a stance and really dive into what drove Che, he would be making a judgement. Whether he would decide that Che's pursuits were righteous, or a parade a violence driven by delusion, Soderbergh would have to judge his character. And how do you do that when he means so many things to so many different types of people? I think by abandoning the conventional narrative, and showing vignettes of his life rather than presenting it chronologically, Soderbergh continues to let the audience decide. Sure, I understand the criticism that by not showing Che commit the violent acts himself in a way absolves him of the crimes & creates in essence, a fairly tale. Yet, I think Che's pursuits were of a very macabre fairy tale. Will I be watching this film every weekend? No way. Do I think Soderbergh could have tightened up the film overall and cut some of the fat? Absolutely. None the less, I think Soderbergh made the only film that could be made about this infamous revolutionary. It's terrifically filmed, impeccably acted, & I think Soderbergh deserves a lot of credit for bringing this controversial life to the big screen.
Che: Part One (The Argentine) Quotes
There are no approved quotes yet for this movie.