Taxi 4
(2007)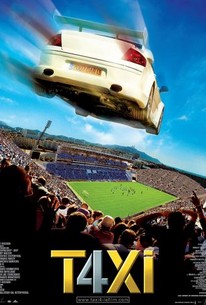 AUDIENCE SCORE
Critic Consensus: No consensus yet.
Movie Info
French success d'estime Luc Besson (La Femme Nikita) follows up his children's fantasy Arthur and the Invisibles (2006) with this high-adrenaline, action-charged crime comedy that he produced and scripted but did not direct. At the heart of the tale is a nitwit Marseilles cop, Police Commissioner Gilbert (Bernard Farcy), prone to making outrageous blunders such as mistaking soccer star Djibril Cisse (in a cameo) for an illegal immigrant, and a hotel chambermaid for a terrorist. The other major member of the force is Emilien (Frederic Diefenthal), a hard-working soul, yet one perhaps too genial to be a cop. He's best friends with taxicab driver Daniel (Samy Naceri), an individual low-key to the point of anemia; their young sons enjoy playing together. As the tale opens, a manically insane, hyperactive Belgian criminal, "La Belge," (Jean-Luc Couchard) undergoes extradition to trial in Africa; en route, he temporarily lands in the Marseilles police department for a few hours and bamboozles Emilien into believing that he's actually a Belgian embassy employee railroaded by the real crook, who is now at large. Emilien foolishly buys the story and sets La Belge free -- prompting an outrageous and explosive series of complications. Meanwhile, Emilien's achingly beautiful wife (sex symbol Emma Sjoberg-Wyklund) has been assigned to infiltrate La Belge's gang on an undercover level -- so far undercover that Emilien himself isn't even aware of her role. Upon release, Taxi 4 shot to the top of the French box office charts to qualify as a local blockbuster, topping numerous American releases in the process.
Critic Reviews for Taxi 4
There are no critic reviews yet for Taxi 4. Keep checking Rotten Tomatoes for updates!
Audience Reviews for Taxi 4
This final (maybe) offering is really the nail in the coffin for this once decent car franchise, the plot is virtually non existent, there isn't really anything going on in the film, no action and Naceri and his new model 406 are relegated to almost cameo roles. The baddies are crap, the new 406 looks abit better than the tired 306 but everyone knows a Peugeot cant really perform THAT well haha it just looks like a modded family car haha Once again Commander Gilbert is turning the film into a farce (god knows why they went down this route) as it now becomes an almost full on 'Pink Panther' rip and spoof :( A poor ending to this franchise.
Phil Hubbs
Super Reviewer
Taxi 4 Quotes
There are no approved quotes yet for this movie.