HALO Legends
(2010)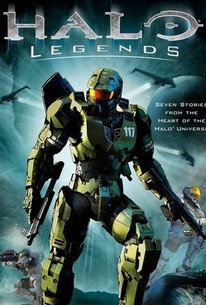 AUDIENCE SCORE
Critic Consensus: No consensus yet.
Movie Info
Follow the fight for humanity in this eight-episode series of sci-fi shorts inspired by the hit videogame series, and produced by some of the hottest talent in contemporary anime. Each episode clocks in between 10 and 17 minutes, and details the fight to protect planet Earth and the human space colonies from a race of malevolent aliens. Featured directors include Koji Sawai (Patlabor), Shinji Aramaki (Appleseed), Daisuke Nishio (Dragonball Z), and Mamoru Oshii (Ghost in the Shell). ~ Jason Buchanan, Rovi
Critic Reviews for HALO Legends
Audience Reviews for HALO Legends
½
Halo Legends is an anime anthology series in a similar vein to "Animatrix" and "Batman: Gotham Knight". It consists of 8(but actually 7 since two of them are just parts 1 and 2 of the same story) short animated stories that explores areas of the rich Halo game universe. Different anime studios and directors worked on each segment as such, the quality of both the stories and the animation varies a lot from one clip to the next. Some for the better, others less so. Overall, the whole production plays the "diversity over quality" card. There is something for everyone to enjoy but at the same time, something that a anime fan might like, a Halo fan might consider it as a great insult to a great game. But people should really know I am not a halo fan I have a Playstation 2 not an Xbox. The only reason I got this is because everyone else was buying it. And it was given very positive reviews. I'll rank the segments from my favourite to the least favourite 1) Origins 1 and 2 directed by Hideki Futamura with animation produced by Studio 4C. Cortana narrates out the history of Halo from the ancient time of the forerunners to the events of the game. Though it plays out like some slideshow, the animation is richly detailed combined with the best 3D CGI used for backgrounds and vehicles. They even used a older 1980s animation style for the ancient history segments to give it that aged look. With a bus load of fantastic settings and planets Origins is by far my favourite out of all of them. 2) The Package, Directed by Shinji Aramaki. This one is for the fans of the game as it looks just like one of the in-game cinematic cut-scenes. First, an amazing scene of space combat that rivals even Star Wars: The Clone Wars. Then all out Guns-a-blazing action as Master Chief and a team of Spartans attempt to retrieve the titular package John Woo style. So many little easter eggs including a short FPS sequence and an important cameo appearance, easily make this segment a fan favourite for sure. 3) "The Duel". Boasting a graphic style reminiscent of classic Japanese watercolor paintings courtesy of Production I.G, it really is refreshing to see an anime studio try something new. With themes of honour and betrayal, the costumes worn by the characters and even the traditional woodwind music, it is safe to assume that the directors, Hiroshi Yamazaki and Mamoru Oshii intended this to be a homage to traditional Japanese folk tales and art. We follow a tale of an Arbiter named Fal who fears that the covenant's ways are dishonourable. The prophet uses this to accuse him of heresy and has Fal's wife killed in order to lure him to his death. It is action intense while also giving a glimpse into the Covenant's inner workings. 4)"Prototype" by studio bones. Directed by Tomoki Kyoda of "Eureka 7" fame and new comer Yasushi Muraki, it seems that someone got lazy and just edited a story outline of a Gundam episode with new names and Halo terminology. I would have ranked it higher if it weren't so unoriginal. Basically its about a Platoon commander "Ghost" who suppresses his human emotions in battle. He steals a weapon laden mobile suit and attempts to hold off the Covenant forces while the humans can escape. Imagine Gundam Wing's Heero Yui as a Halo marine and you have Ghost. While this was a heart wrenching little anecdote, it suffers thanks to its unoriginality. 5) "Homecoming". Another unoriginal story. The main character is a SPARTAN II soldier. While the story takes place during a mission in present day, flashbacks reveal the sad origin of the SPARTAN program where children are kidnapped to be surgically augmented and trained to be super soldiers. The flashbacks tell the tale of a failed escape attempt by her and some other trainees and how she finally comes to terms with her role in the coming war. Homecoming tries to tug on the heartstrings but ends up a being a boring mess. The flat 2D art and uninspired character designs clash badly with the beautiful backgrounds. What's more, the tough SPARTAN soldiers are portrayed as angsty emo teenagers. One of the weakest entries in the whole movie. 6) Odd One out. 1 word summarises it = stupidity. The title not only describes the main character SPARTAN 1337 but the entire segment itself. While other clips focus on dark gritty war stories, Odd one Out focuses more on comedy. It is no surprise that director Daisuke Nishio, who also directed the Dragon ball series, would imbue this with all the staples of those long running Shonen action series. Exaggerated hand to hand combat, quirky characters, super powered kids, crap dialog. Even the flaws like repeated scenes and inconsistent animation is present here. A real insult to Halo (If anyone plays it) 7)"the Babysitter". Not only is this little story one of the weakest in terms of narrative but in the animation too. The story does not have the emotional impact of the previous ones and only serves as a reminder for the Halo fans that the production team has not forgotten about the Hell jumpers from "Halo: ODST". Toshiyuki Kanno's animation is flatly colored and clashes with the detailed CGI backgrounds. Character movements are painfully stiff except for one or two shots. In the closing I guess I really didn't like this as much as I thought I would buy most segments are okay. I have no Doubt we will see a second anthology series coming very soon. I hope much better then the last. Keiko's score 79-100
½
Similar to The Animatrix and Batman: Gotham Knight, Warner Bros Studios again hands the task of creating several stand alone short films to various famous anime directors. For hardcore Halo fans, I'm sure this could be a real treat. For someone like me who is only somewhat familiar with the actual mythology it has some ups and downs. There are some particular solid entries, but the ones that have elements that should seem to resonate with someone more invested in the universe just didn't really for me. Origins and Origins part II - Didn't really care too much for what was going on here. Duel - Easily the best entry here. Most interesting and ambitious in terms of its artistic style and story presentation, channeling a number of different elements, including Kurosawa of all things. Homecoming - an example of one that would appeal to someone more invested in the Halo universe. Odd One Out - A lot of fun. Nice way to bring in some comic relief to this overly serious set of films. Prototype - Fairly solid. The Babysitter - Some quality action gets me past the whiny main character. The Package - Completely CG, with fun nods to the game, however the quality feels less like Final Flight of the Osiris and more like Beast Wars - Halo Space style.
Aaron Neuwirth
Super Reviewer
HALO Legends is a tough old story to get into but I found it much easier once I pressed play on the remote control.
Alexander Wilson
Super Reviewer
HALO Legends Quotes
There are no approved quotes yet for this movie.