Wrong Turn at Tahoe
(2009)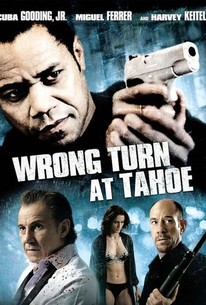 AUDIENCE SCORE
Critic Consensus: No consensus yet.
Wrong Turn at Tahoe Photos
Movie Info
A debt collector for the mob (Academy Award-winner (Cuba Gooding, Jr.) finds his fate taking a series of treacherous turns after his powerful boss and mentor (Miguel Ferrer) is caught in a dangerous double cross with the most dangerous drug dealer around (Academy Award-nominee Harvey Keitel) in this crime thriller from writer/director Franck Khalfoun (P2).
Critic Reviews for Wrong Turn at Tahoe
All Critics (2) | Fresh (0) | Rotten (2) | DVD (3)
A decent enough movie, especially amidst the throngs of low-budget DTV crime flicks.
If you miss it on DVD, wait for it on HBO, Cinemax, or Showtime at two in the morning.
Audience Reviews for Wrong Turn at Tahoe
½
Wrong Turn At Tahoe is the kind of film people watch, because they see it's streaming. Compared to some of the other garbage that comes up while scrolling, this film actually seemed promising, but aside from a few interesting characters it wasn't. Joshua (Cuba Gooding Jr.) is the best middle man in the game, nothing gets past him, so when he hears that local drug dealer, Frankie Tahoe, has been threatening to kill his boss, he passes the information along. Together, they go to Tahoe's club and eliminate him, not realize that he works for Nino (Harvey Kaitel), the biggest boss in town. It's always great to see Harvey Kaitel playing a gangster, he seems to fit the role better than anyone else, and I wouldn't be surprised if one day it came out that he was the boss of a mob family. Aside from Kaitel and the mystery surrounding who Joshua is, this film was nothing more than a lot of shooting, bodies, and F words. I've said it before and I'll say it again, mafia movies may always be cool and popular, but it takes a lot more than F bombs and bullets to make a good film. We've all seen films like Wrong Turn At Tahoe, there is a lot of arguing, a lot of shooting, and in the end, what was the point of any of it?
Todd Smith
Super Reviewer
½
The taste of revenge can be a bitter fruit as shown in this nail biting drama. Cuba Gooding Jr is the best there is when it comes to extortion and debt collection for the mob. When he decides that it is time to get out. His boss gets into some trouble with a rival hungry territorial absorbing gang. Cuba agrees to help him get his revenge not realizing that it gets to be more revealing than he originally thought. It's a pretty good made for televisionv type of revenge movie.
Fascade Fiveoneeight
Super Reviewer
Cuba Gooding Jr. stars as the muscle of a crime boss (Miguel Ferrer). He wants out but Ferrera says Gooding Jr. is out when he says he's out. Gooding Jr. and Ferrer find themselves against an even more dangerous crime boss (Harvey Keitel) after Ferrer killed a drug dealer that worked for him. The movie is well acted with some good shoot-outs. Gooding Jr. seems to make better films that are released on dvd than the ones that are released in theater. This film isn't perfect, but it's certainly much better than....Daddy Day Camp. While Miguel Ferrer shows that he's a wasted talent that needs to be in way more movies than he is. Still, this movie could have used to be a little longer. The end made me feel a little short changed since the film just ends. I recommend the film anyway, that is if you like violent and twisted movies.
Wrong Turn at Tahoe Quotes
There are no approved quotes yet for this movie.