A Dangerous Man
(2009)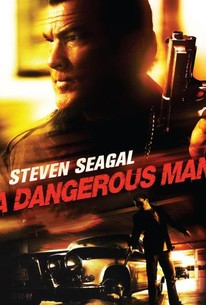 AUDIENCE SCORE
Critic Consensus: No consensus yet.
Movie Info
Framed for murder and condemned to six years in prison, ex-Special Forces operative Shane Daniels (Steven Seagal is attempting to readjust to life on the outside when he finds himself at the center of a simmering street war between Chinese drug dealers and corrupt cops. When Daniels sees a cop killed in cold blood, he swiftly moves in to exact justice. Surveying the scene, he discovers a terrified young girl locked in a trunk with millions of dollars in cash. Now, in order to save the girl and protect the cash, the trained killer must face off against not only the most powerful Chinese gang in the city, but a clan of corrupt cops who will go to murderous lengths to cover up their dirty dealings.
Critic Reviews for A Dangerous Man
All Critics (3) | Fresh (0) | Rotten (3) | DVD (2)
"A Dangerous Man" isn't one of Seagal's best movies, but it's far from his worst.
There is something unarguably beguiling and heartwarming about the refusal of Seagal movies to bow to the sands of time and their adherence to formula, but unfortunately it's not enough to carry 90 long minutes.
Audience Reviews for A Dangerous Man
A Dangerous Man is probably the best thing Seagal has done in his last decade and a half of direct to video output... and by "best" I mean it's a passable action flick; decently shot, lots of guns and explosions and karate chops and gruesome deaths. And it also keeps the cheese and juvenile plot structure to a bare minimum. Once again Seagal is a super-duper-secret-top-ex-military-commando with nothing to lose (but with a heart of gold) who gets involved in some thing involving a bag of money and some girl's kidnapped uncle. Fortunately, this film functions more or less like an excellent Hong Kong action-thriller that somebody decided to shoehorn Seagal into.
Brett Warren
Super Reviewer
Steven Segal has found new was to make his enemies SUFFER...LMAO! When in the world is he going to accept that he is a grey haired man...and let some in! Regardless...he is in full form with an extremely young cast in this save the hostage and get me my revenge thriller... It forces you to pay attention, while he goes to work to get his life back in order. Same Segal...new ways to show pain. It was okay.
Fascade Fiveoneeight
Super Reviewer
½
how can I describe it in two words ?? ?? only "Steven Seagal "
Mhd Ekrayem
Super Reviewer
A Dangerous Man Quotes
There are no approved quotes yet for this movie.