Fix
(2009)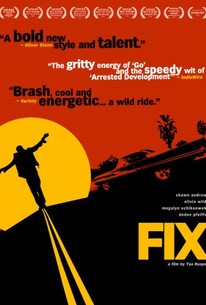 Movie Info
Inspired by actual events, director Tao Ruspoli's urgent road film follows documentary filmmakers Bella and Milo as they race across Los Angeles on a 12-hour mission to get Milo's brother Leo to rehab before he's given a three-year prison sentence. Beginning at a police station in suburban Calabasas, Bella, Milo, and Leo blast through Beverly Hills, Watts, and everyplace in between as they attempt to raise the 5,000 dollars needed to get Leo into rehab. Ironically, it begins to appear as if cutting a quick but lucrative drug deal may be the best way to ensure that Leo ends up in rehab instead of prison.
Audience Reviews for Fix
Two documentary filmmakers and a "recovering" junkie tour L.A. in search of $5000 for the latter's rehab admittance fee. I lost patience with this film fairly quickly. Its conceit is that it's a documentary shot by one of the main characters, but in order to fit his penchant for quick cuts and scenic shots, director and lead actor Tao Ruspoli frequently breaks his own rules. The result is a film that's about its style when it wants to be and I don't know what when it finds the style too constricting. The main character, Leo, is a classic bullshit artist, a fact that's painfully obvious from the beginning. If my brother desperately needed money, I'd surely spend the day with him to try to scare it up, but if he were this annoying, I'd think twice about it. Leo's got a modicum of charm, but most of it is swallowed by his mercurial nonsense, making it inconceivable that Bella and Milo would work so hard to save him. Overall, Fix is full of things that annoy rather than entertain.
Jim Hunter
Super Reviewer
"My life's like that accident. You're just slowing down to look." Not bad, not bad at all. Fix is a faux-documentary about a man and his girlfriend's attempt to get his charismatic, junkie brother to rehab by a court-ordered time. It takes place during the course of a single day in and around Los Angeles, and it's shot from the perspective of a handheld camera that they're using to document the (supposedly simple) trip. Getting Leo to his destination turns out to be a lot more complicated than expected (of course), and we come along with them on the journey. I'll admit that I only watched it because Olivia Wilde was one of the main actors, but it ended up being a pleasant surprise. Visually, Fix is very interesting. The three main characters travel all through Los Angeles, and meet the requisite colorful and interesting characters. The story goes in a lot of different directions, from humor to social awareness to the typical road trip narrative. At times, it's not hard to see this as a real documentary with actual people. There's good chemistry between the actors (understandable, given their connections in real life), and that makes the entire movie easier to buy into. Fix can be a little preachy and unfocused at times, but that makes sense when you consider that these characters probably would say things that they do to each other. That's not to say that Fix doesn't veer into implausibility, from time to time. There are a few scenes that come off as incredibly inauthentic, and one at the end that was just too ridiculous and over-the-top. Eccentricity is fine, but it can hurt a movie when it's forced. As far as small, independent, low-budget movies go, I've seen a lot worse. I'd recommend this to anyone who has an affinity for that kind of film. If you prefer the gloss and tidy bookends of a more typical movie, you might want to skip Fix.
Fix Quotes
There are no approved quotes yet for this movie.