127 Hours
(2010)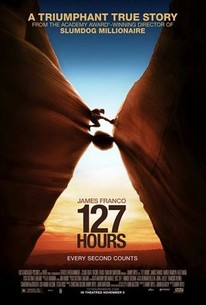 TOMATOMETER
AUDIENCE SCORE
Critic Consensus: As gut-wrenching as it is inspirational, 127 Hours unites one of Danny Boyle's most beautifully exuberant directorial efforts with a terrific performance from James Franco.
Movie Info
"127 Hours" is the true story of mountain climber Aron Ralston's remarkable adventure to save himself after a fallen boulder crashes on his arm and traps him in an isolate canyon in Utah. Over the next five days, Ralston examines his life and survives the elements to finally discover he has the courage and the wherewithal to extricate himself by any means necessary, scale a 65 foot wall and hike over eight miles before he is finally rescued. Throughout his journey, Ralston recalls friends, lovers, family, and the last two people he ever had the chance to meet? A visceral thrilling story that will take an audience on a never before experienced journey and prove what we can do when we choose life.
News & Interviews for 127 Hours
Critic Reviews for 127 Hours
Audience Reviews for 127 Hours
Boyle seems to care only about his own direction, as he invests in a heavy-handed, tumultuous approach, using everything from pointless subjective cameras to split screens, but leaves the story without a clear purpose. What saves the film, though, is Franco's strong performance.
Carlos Magalhães
Super Reviewer
½
Danny Boyle e James Franco, mostram seus talentos neste indicado ao Oscar.
Lucas Martins
Super Reviewer
That Sigur Ros music cue towards the end never fails to make me tear up.
127 Hours Quotes
| | |
| --- | --- |
| Aron Ralston: | It's no slurpee. It's like a bag of piss. |
| | |
| --- | --- |
| Aron Ralston: | I've been moving towards it my entire life. The minute I was born, every breath that I've taken, every action has been leading me to this crack on the out surface. |
| | |
| --- | --- |
| Aron Ralston: | Hello. This time the rat doesn't scuttle off. Yeah, what am I doing here? Good question. In all of the places in all of the world. Huh. Did all the routes, all the big descents. Not good enough. Not hard enough, right? Right. Got what I wanted. Got what I asked for. Everyone else is out there. And I'm in here. Dying. Real cool. |
| Aron Ralston: | Hello. This time the rat doesn't scuttle off. Yeah, what am I doing here? Good question. In all of the places in all of the world. Huh. Did all the routes, all the big descents. Not good enough. Not hard enough, right? Right. Got what I wanted. Got what I asked for. Everyone else is out there. And I'm in here. Dying. Real cool. |
| | |
| --- | --- |
| Aron Ralston: | Good morning everyone! It is seven o clock here in canyon land USA! And this morning, on the boulder, we have a very special guest, self-proclaimed, American superhero, Aron Ralston! Let's here it for Aron! Hi, oh it's so great to be here! Hey can I say hi to my mom and dad? Mom and dad! Mustn't forget mom and dad, right Aron? Yeah, hey mom, I'm sorry I didn't answer the phone the other day. If I had, I would have told you where I was going, and, well I probably wouldn't be here right now. That's for sure! But like I always say, your supreme selfishness is our gain! Thank you Aron! Anyone else you wanna say hi to? Well there's Brian at work. Brian- Hi Aron! Hey, probably won't be making it in to work today! Ha ha ha, get a load of this guy! Oh wait, hang on, we have a call coming in from another Aron, in Looser Canyon, Utah. Aron asks... Am I right in thinking even if Brian from work notifies the police they'll put a 24 hour hold on it, before they file a missing persons report. Which means, you won't be declared missing, until mid-day Wednesday at the earliest? Uh, yeah! You're right on the money there Aron! Which means, I'll probably be dead by then! Aron from Looser Canyon, Utah! How do you know so much?! Well I'll tell you why I know so much, I volunteer for the rescue service. Huh!!! You see, I'm some kind of, well a big fucking hard hero. And I can do anything on my own, you see? I do see! Now is it true, that despite, or maybe because you're a big fucking hard hero, you didn't tell anyone where you were going? Uh, yes that is correct. Anyone? No. Oops! |