12 Rounds 2: Reloaded
(2013)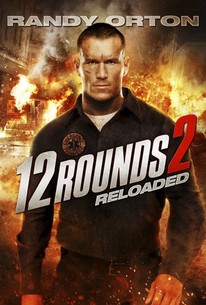 AUDIENCE SCORE
Critic Consensus: No consensus yet.
12 Rounds 2: Reloaded Photos
Movie Info
Nick Malloy portrays an Emergency Medical Technician (EMT) who finds himself caught in a deadly 12-round game of cat and mouse with a vigilante tied to the paramedic's past. With little time to spare and his wife's life hanging in the balance, the EMT must figure out why he's been chosen to be the pawn in this maniac's game before it's too late.
Critic Reviews for 12 Rounds 2: Reloaded
Audience Reviews for 12 Rounds 2: Reloaded
Randy Orton playing an EMT immediately sounds silly buy thankfully it wasn't bad, Ok yh the acting was pretty bad but the story was great and told well but the twists were very predictable and the action wasn't great, And it's amazing how a EMT is somehow able to beat up cops and shoot a gun very well and hotwire cars, But having said all that it's still pretty entertaining, Not as clever as the first but just as watchable.
Jamie Clarke
Super Reviewer
½
WWE Films continue to surprise, giving us a string of terrific action thrillers from an unlikely source. Their latest straight to video release is a sequel to 2009s, 12 Rounds. While Randy Orton wasn't nearly as good as John Cena was in the first film, he gives a more than adequate performance as Nick Molloy, a paramedic who was in the wrong place at the wrong time. After failing to save a rich mans wife at the scene of a drunk driving accident, the man decides to punish all those involved, including the paramedic who failed to save her. The story here is pretty solid, especially for an action film, but what bothers me is that this sequel was in no way connected to the first film. Reloaded is a different story in a different city, with an entirely different cast, so how did the bad guy manage to come up with the same game, from four years earlier? As for that game, the rounds weren't as long or as complicated, but what really makes this better than your average action movie is the compelling back story and the depth of the characters involved. Randy Orton, while having very limited film experience was pretty good and that will come as a surprise to many. It's hard to think of WWE Superstars as actors, but that is exactly what they are. Aside from wrestling in their underwear every week, they have to play a charterer and follow a script 52 weeks a year, so is this really such a stretch? For the most part the WWE Superstars have made for some pretty exciting action stars. The supporting cast of this film was also very good, in particular Tom Stevens, formerly of the Diary of A Wimpy Kid series. Stevens plays Tommy, another person caught up in this madman's game, and he is not only thrilling and charismatic, but he's pretty funny too. 12 Rounds 2 won't win any awards, but it is 90 minutes of non-stop action, packaged in a compelling story, which I found to be extremely entertaining.
Todd Smith
Super Reviewer
12 Rounds 2: Reloaded Quotes
There are no approved quotes yet for this movie.