13 Moons
(2002)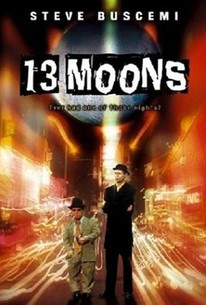 AUDIENCE SCORE
Critic Consensus: No consensus yet.
Movie Info
The director of such off-beat independent films as In the Soup, director Alexandre Rockwell once again teams with that film's star to deliver this Los Angeles-based comedy concerning superstition and intersecting lives. Things aren't looking so good for television clown Banana's (Steve Buscemi) career, and the fact that his estranged wife, Suzi (Jennifer Beals), has just been arrested for assaulting his girlfriend, Lily (Karyn Parsons), just serves to compound Banana's despair. Teaming with sidekick Binky (Peter Dinklage) to enlist the aid of bail-bondsman Mo (David Proval), Banana and Binky discover that Mo is currently negotiating the release of hip-hop mogul Lenny's (Daryl Mitchell) wife, Sandra (Rose Rollins). The hapless group soon teams to help Mo by finding a suitable kidney donor for the bail-bondsman's ailing son, and though they quickly happen across a drunk (Peter Stormare) who fits the bill, the trouble comes in keeping the prospect in the hospital. Doing their best to help Mo's son under increasingly chaotic circumstances, personal tensions flare as each character desperately tries to simultaneously battle their own inner demons.
Critic Reviews for 13 Moons
All Critics (4) | Fresh (2) | Rotten (2)
uncommonly poor... has nothing at all to say
June 27, 2004 | Rating: 1.5/5
I hope it'll be many moons before I see another such laughless comedy.
Audience Reviews for 13 Moons
"13 Moons" is one of the most poorly assembled, incomprehensibly photographed, and incoherent pieces of trash I have ever seen. Alexandre Rockwell, may God have mercy on your soul.
Stephen Earnest
Super Reviewer
½
Not sure how I came across this movie or even why I purchased it, but that is like a number of movies that end up in my collection. When movie first started I said what the F***? But as movie continued I got drawn into what turns out to be a somewhat unusual film with 10 pretty wild characters. The film has beautiful imagery, great music and fantastic acting. It features a huge, eclectic ensemble cast in a wild series of events that are, at first glance, pretty far-fetched. But the result is surprisingly smooth and genuine. Its worth 3 1/2 Stars and should be added to any independent movie Collection
Bruce Bruce
Super Reviewer
Though I should never do this (as it prevents a truly accurate review from being given), I'm letting my bias determine the grade for this film. In reality, This film deserves like a 3.75 or something. It'd be an extremely low B- if it was graded on a letter grade scale. Obviously, as I said, I'm biased with this movie. Here are a few reasons why: Buscemi. Ensemble cast with interweaving plot lines. Indie film. Crazy off the wall characters and events. Talented character actors (besides Buscemi) that I like. It takes place over the course of one night. This is a weird movie. In fact, the tagline, "Ever had one of those nights?" perfectly sums this movie up. Now, as much as I like this movie, my grade is inflated, and here's why. As much as I enjoyed this movie, and, as many good things that is has good going for it, there are a shitload of bad things present as well. The script is chock full of issues, especially in the plot and transitions departments. This film probably needed to be longer in order to flesh out and elaborate upon some of those issues, namely some plot holes that go unresolved and undealt with. It's n indie film, which is both good and bad. Good because it sets it apart from mainstream stuff and lets the viewer know that they're not gonna get something typical or run of the mill. This is bad because the film is meandering at times and needs more focus. In a way I kinda liked that it has a home movie look to it, but at the same time, it makes this film seem a little bit too amateurish and unprofessional looking. If it were to look less rough and more polished, it'd help give it some more credibility. Ok, I bitched enough. You probably get the point. The movie is very flawed, but still entertaining and has some good themes and stuff. Here's the best part, which is what I'll end things on. The acting. It's awesome, and the highlight of the whole thing. Everybody turns in a good performance. Being a Buscemi fanboy, it pains me to say this, but I didn't like his performance the most. That honor belongs to Dinklage. Vince and Stormare also bring in some exceptional turns (although Stormare is maybe just slightly a little too over the top.) Buscemi is good, but not as good as I was hoping. I'm not totally let down though. Bottom line, if you can find this movie, check it out. It's got a lot of problems, but a lot of heart and some truly memorable characters.
Chris Weber
Super Reviewer
13 Moons Quotes
There are no approved quotes yet for this movie.