13Hrs
(2010)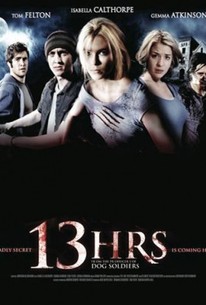 AUDIENCE SCORE
Critic Consensus: No consensus yet.
Movie Info
From the producer of Dog Soldiers, 13 Hrs stars some of the hottest young British talent in one of the horror hits of the year. Starring Tom Felton (Harry Potter), Gemma Atkinson (Hollyoaks), Isabella Calthorpe (How to Lose Friends and Alienate People) and Joshua Bowman (Holby City). A full moon hangs in the night sky and lightning streaks across dark storm clouds. Sarah Tyler (Isabella Calthorpe) returns to her troubled family home in the isolated countryside, for a much put-off visit. As the storm rages on, Sarah, along with her family and friends shore up for the night, cut off from the outside world. But something emerges from the driving rain and darkness. Something that holds a dark secret so devastating that, in one night, it could wipe out the entire family. Trapped, Sarah, along with her brothers and friends must use their heads as well as their physical strength to survive not only the thing that is hunting them down one by one - but their own entrapment as the besieged group turns in on itself. Can they survive the horror which is stalking them? Can they survive for 13 hours? Or is their enemy already amongst them and always has been?
Critic Reviews for 13Hrs
All Critics (1) | Top Critics (1) | Fresh (1) | Rotten (0)
it begins not as some lycanthropic nightmare, but rather as a drama (or even soap opera, given the presence of Hollyoaks' Gemma Atkinson and Holby City's Joshua Bowman) of a propertied family's decline.
Audience Reviews for 13Hrs
Decent enough British horror movie to lose yourself in for 90 minutes. 13hrs has Isabella Calthorpe return home from America where she is met my snarky half brothers and a jealous best friend. Everything goes pear-shaped when a killer animal shows up. The film has a lot of drama and tension, even if sometimes the performances don't quite match the material. The idea of setting up complex relationships involving arguing parents, downtrodden siblings, and being left to live in a small rural town, add to the intensity later on. Unfortunately the horror scenes are anything but terrifying. The action is so hastily and poorly edited it becomes difficult to know what is going on. Rather than embracing the effects work, the camera angles, shot composition, and edits seem as though the film is ashamed of what they have produced. As such we never get a real look at the beast, which just means that all the secrecy is unwarranted. Interesting at times, and makes good use of its set, turning an attic into a maze. It was also nice to see characters working past their conflicts and trying to think about some actual plans that may work.
Luke Baldock
Super Reviewer
An ok little Brit horror film from the producers of Dog Soldiers and featuring a young cast from well known TV programmes. For a low budget film it does ok and has a fairly typical storyline.....I felt it could have had a bit more creature time. Despite this it does have some gory moments. Worth seeing if you like low budget horror films, but really a missed opportunity to do something closer to the brilliant Dog Soldiers!
Doesn't add anything new to the werewolf legacy but there are some nice jump out moments.Acting is ok but not outstanding the production values are very high but is let down by a predicable story line and the add twist isn't that great Over all not a bad movie and its not the worst one either.Its a Friday night movie with a couple of beers or wine if you prefer.
Brian De Guelle
Super Reviewer
13Hrs Quotes
There are no approved quotes yet for this movie.