The 13th Warrior
(1999)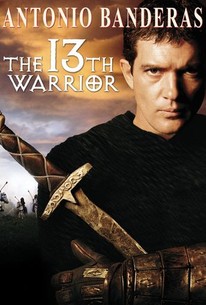 Movie Info
Based on Michael Crichton's best-selling novel "Eaters of the Dead," "The 13th Warrior" is an exciting and unforgettable adventure thriller. When an important emissary is abducted by a band of warriors, he is forced to join their quest to battle mysterious creatures legendary for consuming every living thing in their path. Eventually surrounded by the frightening and ferocious foe, Ahmed must conquer his personal fears and help battle the illusive invadors- who emerge out of the shroud of fog in the black night.
Critic Reviews for The 13th Warrior
Audience Reviews for The 13th Warrior
Really a fun actioner, recalling those glorious days of yesteryear when Vikings strode the earth in all their contempt for puny civilization. Banderas' best film to my mind, concerns his efforts (as a representative of urbanity: that sordid weaning place for girly men and intellectuals) to convince of his colleagues of his worth while faced with a enemy that shakes even the manliest of men, the eaters of the dead.
Kevin M. Williams
Super Reviewer
Historical Vikings vs barbarians, hack n slash flick made by 'Die Hard' director John McTiernan? should be kick ass right? well sort of, it is a decent flick but its a bit messy and not overly as memorable as you'd think. Based on a Michael Crichton novel (which was all the rage back in the 90's) which involved the curious mix of a travelling exiled Arab poet who befriends and joins a small village of Norsemen (Vikings) and ends up fighting a tribe of barbarian cannibals that dress as bears because they believe they are bears. The film isn't accurate of course, it is based on actual fact but has been hugely exaggerated and made more exciting for both the novel and film. The lead character 'Fadlan' was a real Arabic traveller and he did go north and experience Viking life but all the battles with cannibals (based on the 'Beowulf' folklore) is complete fantasy. So the film has a touch of grounding in reality which makes it more interesting and urges you to learn more which is good, the film itself isn't too bad, compared to the novel I don't know but there isn't too much happening in the film other than time wasting dialog inter-spursted with pitched battles. The dialog is very wooden really and somewhat 'state the obvious' all the time, the film does feel a little rushed and choppy probably due to the problems whist being made and really the battles, which are the focal point, aren't all that good either. The film is solid and is reasonably interesting but it just feels very underwhelming, as if there is a really really good kick ass film somewhere in there wanting to get out. Banderas looks the part of the Arab and the Viking cast also look good as does the cold looking muddy location work but Sharif seems to have been stuck in there simply for big name status and to try and elevate the film to epic levels as he does pretty much nothing of importance and disappears very quickly. The film does get slightly more silly as it progresses towards the end but all in all it just about does the job of keeping you entertained. The barbarian hordes the Vikings fend off are too unrealistic really I think, that's the problem, and of course most of them are all just sword fodder for the heroes so the usual thing. I think 'Pathfinder' does it better.
Phil Hubbs
Super Reviewer
Interesting action film that delivers on action and thrills. Although at times lacking, The 13th Warrior is good entertainment. Although lacking at times, the film has some solid action, and in the end it's what makes this film worth watching. The 13th Warrior is a mindless action romp set against a historical background. Directed by John McTiernan, director of Die Hard, this film delivers action and thrills that will please any action movie fan. Antonio Banderas is pretty good here, and along with The Mask of Zorro, this is one of his more enjoyable film. Although lacking at times in story, the film delivers effective action that makes this film worth watching. There's a good cast here, nothing ever too grand, but they all give decent enough performances to make this film interesting. The film relies on the action to deliver the thrills, thus the 13th Warrior is short on a epic story, but in the end it's not a big deal. The film is a popcorn flick in the end, and it most certainly delivers the action you'd expect. Despite its imperfections, this is a well made actioner that's simply designed to entertain you. 13th Warrior is fun from start to finish and is very violent, action packed and moves at a fast pace.Not a great film, but still worth watching for an entertaining evening of mindless action.
The 13th Warrior Quotes
| | |
| --- | --- |
| Ibn Fadlan: | I can taste neither the fermentation of grape, nor of wheat. |
| Ibn Fadlan: | What? Why do you laugh? |
| Herger the Joyous: | Honey! It's made from honey. |
| | |
| --- | --- |
| Herger the Joyous: | Did she finish you? Or bring you back to life? |
| Ibn Fadlan: | A gentleman doesn't discuss such things. |
| | |
| --- | --- |
| Buliwyf: | Luck often enough, will save a man, if his courage hold. |
| | |
| --- | --- |
| Herger the Joyous: | he All-Father wove the skein of your life a long time ago. Go and hide in a hole if you wish, but you won't live one instant longer. Your fate is fixed. Fear profits a man nothing. |
| Herger the Joyous: | He All-Father wove the skein of your life a long time ago. Go and hide in a hole if you wish, but you won't live one instant longer. Your fate is fixed. Fear profits a man nothing. |