14 Blades
(2014)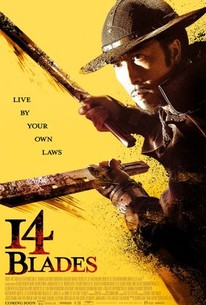 Movie Info
Trained in clandestine combat from childhood, the Jinyiwei were masters of the 14 Blades. Above the law and with a license to kill, they devoted their lives and lethal prowess to the service of the Emperor alone. When the Imperial Court is taken over by evil eunuch JIA, the best of the Jinyiwei, QINGLONG is assigned to steal a list identifying those still loyal to the Emperor. Unbeknownst to Qinglong, the Jinyiwei have fallen under the control of Jia, and during the mission he's betrayed and barely escapes with his life. Now the most wanted man in the land Qinglong must seek out and rally the loyalists to rise against Jia and restore the Emperor to power. In his way are the deadliest assassins in the land, his former brethren, the Jinyiwei. (C) Radius-TWC
News & Interviews for 14 Blades
Critic Reviews for 14 Blades
Audience Reviews for 14 Blades
Pretty cool martial arts movie. Well, i say pretty cool. They all seem the same to me but i suppose martial arts fans might say that about horror! When some old emporer gets overthrown by a massive wanker, one of his best people is sent out to find out who's still on the emporers side but due to a betrayal, our hero becomes the most wanted man about town. I'm not a big martial arts fan like i used to be years ago so can't judge to harshly but this seems like an average story surrounded by some brilliant fight scenes and its those scenes that make it pretty cool!
½
Truly breaktaking martial arts epic film, but it also mixed with a love story. It's about time Donnie Yen made an impact yet again in the fantasy wuxia-pian genre, given the rather recent dismal films with An Empress and the Warriors, and Tsui Hark's Seven Swords. He gives a brilliant performance as the ex-Jinyiwei guard. Writer-director Daniel Lee managed to create a film consisting of a successful amalgamation of wuxia-pian elements, with iconic fight action sequences set in tea houses, desert duels, forest brawls with abandoned temples and exotic cities enhanced by CG to play host to a film complete with double crosses, a prized possession that everyone is after, and had time to sneak in unrequited romance.
Dean McKenna
Super Reviewer
½
Daniel Lee successfully blends together multiple wuxia-type elements to create the action thriller 14 Blades.
The story entails some attention, as it isn't exactly smooth sailing; nevertheless, it is far from troublesome to follow. At just over 1 hour and 50 minutes the early going paces by fairly quickly, as well as the ending. The middle is where it mildly slows down to focus on the characters.
The martial arts choreography is superb, with some tolerable effects to spice up the fights, as they move through ample amounts of settings. The camera work and editing is not the best out there; however it is more than satisfactory.
Donnie Yen shows that he is one of the greats at martial arts, which definitely outshines his acting. Zhao Wei is extremely adorable and Kate Tsui is pleasingly treacherous. Tsui has one of the more memorable characters of the film. Chun Wu is also notable.
14 Blades has a variety of things going for it, which in turn warrants a viewing.
14 Blades Quotes
There are no approved quotes yet for this movie.