14 Hours
(1951)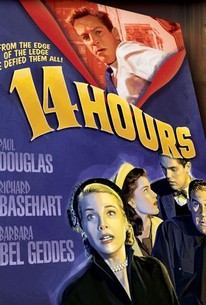 Movie Info
Filled with genuine nail-biting tension, this multi-textured drama centers on the 14-hour-long relationship between a distraught, suicidal man standing upon the narrow ledge of a 17-story building and the courageous traffic cop who tries to talk him down.
Critic Reviews for 14 Hours
Audience Reviews for 14 Hours
½
Paul Douglas (as underappreciated an actor as there ever was!) really holds down this drama about NYCPD's efforts to save a jumper on the 16th floor of a building in downtown Manhattan. Rich Basehart plays the jumper with loads of anxiety and the great Agnes Moorehead as his neurotic mom, demonstrating where the kid got it from. Decent.
Kevin M. Williams
Super Reviewer
½
"Fourteen Hours" starts with a room service delivery to room 1505 of the Rodney Hotel in New York City on St. Patrick's Day. As the waiter(Frank Faylen) turns to give the guest(Richard Basehart) his change, he has disappeared, only to turn up on the ledge outside where he is spotted by Police Officer Dunnigan(Paul Douglas) on traffic duty. Soon enough, Deputy Chief Moskar(Howard Da Silva) takes over from Dunnigan who he sends back to direct the increasingly snarled traffic on the streets below. But it is Dunnigan that the jumper wants to talk to, as the rest of the police force scrambles to find out who he is. While "Fourteen Hours" may sound like having a boilerplate plot to modern audiences, it also proves quite successfully that sometimes the simplest plots are the best, as the movie has an exemplary wordless opening scene and more than its share of suspenseful moments. At the same time, there are multiple contrived occasions here of someone doing the dumbest possible thing at the worst possible moment. Ain't that always the thing, though? Well, this is New York City with the best and worst of humanity on display. The movie makes great use of its location shooting which not only aids the perspective on the main situation, but also on the street where the people take the time to put their lives in perspective. And it is forward thinking in favoring psychology over religion in providing a faint idea as to the jumper's motives.(Considering how badly the Mets are playing, he may soon have company. But at least R.A. Dickey is pitching tonight.) What I think the movie is delicately trying to get around to in a not-so-enlightened sort of way is that the jumper is gay.
A really great film noir selection. About a man who climbs out on the ledge of a hotel 13 stories up in NYC threaten to jump, but a traffic cop becomes his friend and attempts to talk him out of it. Grace Kelly makes a short appearance here and there. Paul Douglas show outstanding acting qualities and caring that was once found in most people back in the day, not like today where its every man out women for himself. 4 stars
Bruce Bruce
Super Reviewer
14 Hours Quotes
There are no approved quotes yet for this movie.