16 Blocks
(2006)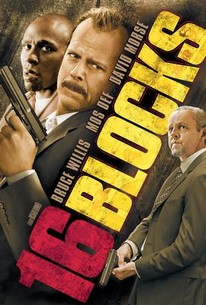 TOMATOMETER
AUDIENCE SCORE
Critic Consensus: Despite strong performances from Bruce Willis and Mos Def, 16 Blocks is a shopworn entry in the buddy-action genre.
Movie Info
A hard-drinking, hard-living cop assigned the task of transporting a small-time criminal to the nearby courthouse finds that a simple, 16-block drive can be the longest ride of his life in director Richard Donner's urban action thriller. Hung-over, has-been cop Jack Mosley (Bruce Willis) has seen better days, and all that the force expects out of him these days is to stay out of trouble while he's on the clock. Eddie Bunker (Mos Def) is set to testify before a grand jury at 10:00 a.m., and it's up to Mosely to make sure that Bunker makes it to the courthouse in one piece -- a job that Mosely estimates will take a maximum of 15 minutes. A black van has been trailing the pair unnoticed, though, and after stopping off at a nearby liquor store to pick up some breakfast, Mosely emerges from the store just in time to save Eddie from the lethal bullet of a determined assassin. When backup arrives in the form of Detective Frank Nugent (David Morse), Mosely quickly realizes that the detective on Nugent's team is the same cop that Bunker is set to testify against. Now faced with the tough task of dodging bullets and eluding a massive onslaught of corrupt cops, Mosely must keep Bunker alive long enough to get him before the judge and ensure that justice is served. ~ Jason Buchanan, Rovi
News & Interviews for 16 Blocks
Critic Reviews for 16 Blocks
Audience Reviews for 16 Blocks
½
Broken down, washed up alcoholic police detective Jack Mosley is given the mundane task of escorting a witness 16 blocks from the precinct to the courthouse, and is given about 118 minutes to complete the job. Things don't go as planned, and prove far from easy however, as a legion of crooked cops want the witness dead, and will not stop until that happens. Essentially this is just a contemporary update of the Eastwood film The Gauntlet, and, despite it being rather generic, formulaic, and predictable, I still enjoyed it, had a good time, and found enough stuff to like to give it a recommendation. I'm giving it an extra half star (basically a barely made it B-) because I dug the character interactions, and appreciated that this wasn't entirely an over-the-top action fest. Willis is pretty decent as basically an older, more human, more vulnerable, less wisecrackin' John McClane and he conveys the feelings of regret, depression, and being burnt out very well. As the witness Eddie Bunker (named after real life criminal turned actor Edward Bunker) Mos Def is a mumbling motormouth, and he seriously spends almost all of his screentime talking nonstop, and, despite being rather annoying, he didn't come off as grating like the types of characters Chris Tucker plays, and he is also somewhat likeable. David Morse is less developed and fleshed out in his role as Mosley's former partner/the chief antagonist, but he does okay. The movie is lacking a super strong plot (as far as the specifics and motivations go), but the performances and character interactions are good, the action is fine, and it's never boring. Give it a watch, like as a rainy day boredom sort of thing.
Chris Weber
Super Reviewer
A not-bad but not-good thriller somewhat spoiled by they ultra-annoying Mos Def. Who thought it was a good idea for him to spend the entire movie trying to do an Eric Cartman impression?
Stuart Brooks
Super Reviewer
I think this movie has been overlooked. Nobody talks about it, when they should be, because for whatever purpose this movie has going for it, it makes it's mark with flying colours!
16 Blocks Quotes
| | |
| --- | --- |
| Frank Nugent: | You can't be lucky all the time.... |
| Frank Nugent: | You can't be lucky all the time... |
| Eddie Bunker: | But you can be smart everyday. |
| | |
| --- | --- |
| Jack Mosley: | Life's too long |
| Jack Mosley: | I believe life's too long. |
| | |
| --- | --- |
| Frank Nugent: | Fuck the truth!! |
| Frank Nugent: | Fuck the truth! |