16 Wishes
(2010)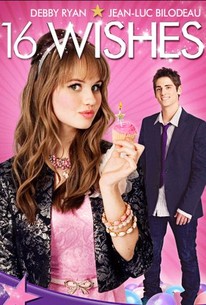 AUDIENCE SCORE
Critic Consensus: No consensus yet.
Movie Info
A teenage girl learns that it pays to be careful what you wish for in this upbeat fantasy comedy starring Debby Ryan (Disney's The Suite Life on Deck). On the morning of Abby Jensen's (Ryan) sweet 16 birthday, she receives 16 magical candles, each capable of granting a single wish. Before long Abby is the best dressed girl in school, she's got a brand new sports car, and she's become the envy of her classmates. But when Abby wishes to be treated like an adult, it doesn't take long for her to realize that growing up can have its fair share of drawbacks. Perhaps with the help of her best friend Jay (Jean-Luc Bilodeau), Abby can finally get her life back, and truly savor her last few years of adolescence.
Critic Reviews for 16 Wishes
There are no critic reviews yet for 16 Wishes. Keep checking Rotten Tomatoes for updates!
Audience Reviews for 16 Wishes
The movie is typical Disney fare starring Debby Ryan as Abby who is celebrating her 16th birthday. She wants it to be the perfect day but things start out all wrong, until she receives a box of Sweet 16 Birthday Candles, each of which corresponds to a wish on her list. As her wishes come true, her day gets better and better until she makes a wish that changes everything and helps her finally understand that being a kid isn't so bad. Responsibilities will come soon enough. 16 Wishes conveys positive messages about being a good friend, being careful what you wish for, and remembering the important things in life. Also, Abby learns that being a kid has its perks, and there is no need to grow up too fast. Cute and fluffy! Teens would love it.
Rule number one about watching a made-for-TV film is you should never expect it to be excellent. Thats exactly why they never get nominated for Oscars and you never see the film's title appear at the marquee of your local multiplex. One of the best examples of low-grade TV movies is the 2010 Disney Channel Original Movie, "16 Wishes" starring Debby Ryan. In "16 Wishes", Debby Ryan plays a girl named Abby who is about to turn sixteen years old and dreams of making the most out of it. She has a list of sixteen wishes that she wants to become true. One of them is to be treated better. However, without any plot development whatsoever, Abby is considered an adult by her parents and peers and is forced to leave her house and purchase her own, buy a car, and get a job. As a result, Abby is treated as an adult. The rest of the film has the protagonist trying to work the problem out. Debby Ryan is okay in this movie. I also she thinks she pretty cute. Shes not a hot actress like Ashley Greene or Olivia Wilde but she is one of those people I would take out on a date. The way she acts in this movie looks like shes trying to cope with the film's mediocrity. How were the supporting cast? Don't get me started! The script was really gay and the film is 100% predictable. Also, the jokes are forced and unfunny. There is a running gag in the film that shows one of the protagonist's friends appearing in the most mundane places with a different occupation. One minute we'll see her as a band geek and ten minutes later she's a crossing guard. Its funny the first two times and then it gets tiring. See what I mean by these jokes? The reason why I sat down to watch this perplexes me. This is one of those type of movies you find on TV when nothing else is on but then regret watching it. I do regret watching this. This movie is not worth laying your eyes on. It just really isn't worth it. I feel like the movie critic ducks who watch "Meet the Parents" in that Seth Macfarlane short. Not even the word, "poor", can describe the film. See that Seth Macfarlane short I mentioned here: http://www.youtube.com/watch?v=67tgrJQTplU
Bentley Lyles
Super Reviewer
16 Wishes Quotes
There are no approved quotes yet for this movie.