16 Years of Alcohol
(2003)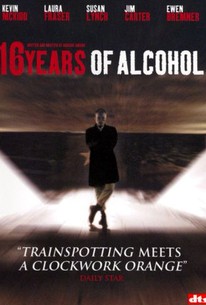 Movie Info
This film explores one man's battle against the social and psychological ravages of alcoholism. As a child, Frank is confronted with two pathways in life, relating back to his ambivalent feelings for his father. Faced with this swaggering man, a womanizer and a drinker, Frank is torn between rejection and unconscious imitation. From then on, he continually vacillates between a desire for self-control and stability, and giving in to hatred and mistrust, a legacy of his painful experience of betrayal. His first precocious glass of alcohol drags him in this dangerous direction, which continues throughout his adulthood.
Critic Reviews for 16 Years of Alcohol
Audience Reviews for 16 Years of Alcohol
[font=Century Gothic]Portentously narrated, "16 Years of Alcohol" is a thinly plotted movie about Frankie(Kevin McKidd), a young man who is part of a gang of four thugs who spend most of their waking hours roaming the streets and bars. Frankie is a one-dimensional character whose single distinctive quality is his explosive anger but no particular cause is ever given for this.(He grew up in a dysfunctional home but the situation was not abusive.) No political or socio-economic factors are even mentioned. In the end, this movie just seems like an inferior knock-off of "A Clockwork Orange" which it references via a movie poster.[/font]
16 Years of Alcohol Quotes
There are no approved quotes yet for this movie.