1969
(1988)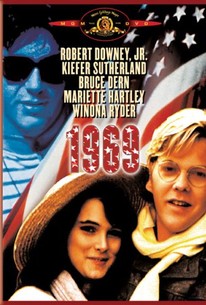 Movie Info
When their friend is killed in the Vietnam War, several youths adopt a strong anti-war stance that leads to conflict with their families and the culture at large. This heavy-handed drama is the directorial debut of Ernest Thompson, the writer of On Golden Pond .
Audience Reviews for 1969
½
Scott: If you flunk out and die in Vietnam, that's the end of our friendship, fuck you, you know.  "The year a country split apart and a generation came together." 1969 is a Vietnam film that focuses on what was going on in America as opposed to what was actually taking place in the war. It deals with two college students and friends who are against the war and want to avoid being drafted at all cost. That's why they went to college. The movie also deals with their families and how the war affected family and their community. The movie really isn't good  at all. It takes every little chance it gets to pour as much melodrama on us as possible. Bruce Dern is horrible and Winona Ryder is awful(and I normally like her). Robert Downey Jr and Keifer Sutherland are decent, but they both have sone way better work since. I like the story, but the movie seems to be lacking in every other category. The dialogue between the characters is horrible. A best thing about the movie is it's soundtrack. Bands such as Cream, Jimi Hendrix and Buffalo Springfield are included in it; helping make the 60's setting a little better. While I can't really say I liked 1969; I can't say not to watch it either. It's not a completely worthless movie; just one that never becomes as good as it could have. It does have 2 or 3 scenes I really loved, but other than those few scenes, every other one felt like it was missing something. I'd only recommend this to huge fans of Keirfer or Robert. If you're not a huge fan of either of them; it's really not worth the time.
Melvin White
Super Reviewer
Two buddies from a small town in Maryland witness first hand the turbulence of the 60's as the war hits home for both kids. While eveyone in their sleepy town is oblivious, the two young men begin experimenting with drugs, growing their hair long, and protesting America's involvement in Vietnam. Much to the dismay of their parents. But a series of events will turn everything upside down and shake the town and this two families apart. A very young Robert Downey, Jr. and Keifer Sutherland are phenomenal and gives us that glimpse of what we would later see in their long and great acting careers.
Jason Reneau
Super Reviewer
Another 80s movie that looked back at the 60s. This one has a great cast, a pretty good late 60s feel, and a realistic story. I liked it.