1984
(1984)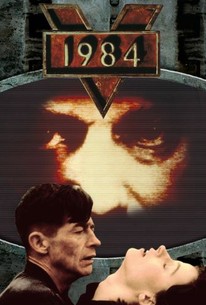 Movie Info
This is the second film version of George Orwell's cautionary novel. Winston Smith, a bureaucratic flunky living in a totalitarian state, breaks the law by falling in love with Julia. Attempting to escape, Winston and Julia are tracked down by the Thought Police and "re-educated" into loving the State.
News & Interviews for 1984
Audience Reviews for 1984
½
I have to start by stating I've read the book. That always has an impact on how one views a movie. In my case, it has been over 25 years since I read and enjoyed the book, and yet something bothered me about the movie. It seems to take a long time to parlay to us, the movie watchers, how bleak things are in 1984. I got the idea much faster reading the book. The bleakness part of the movie bored me to tears. Also, the ending seemed different - actually the movie ending confused me.
½
In a totalitarian society that brands any dissent or emotional connection with another individual a "thought crime", a humble civil servant enters into a sexual relationship with a co-worker at the risk of cruel and unusual punishment. George Orwell's novel is the grandaddy of all dystopian fiction and virtually every sci-fi ever made on the subject owes a debt to it. It features a regime that employs propaganda, fictional "enemies of the state" and constant war to keep its citizens subjugated and is a frightening examination of the logical conclusion to fascism. The film obviously employs imagery derived from both Nazi and Stalinist propaganda and creates a chillingly believable world where freewill is outlawed. John Hurt gives yet another acting master class as the rebel without a cause and the torture inflicted on him by a gently malevolent Richard Burton is truly horrifying. The biggest problem with the film for me is that in Winston's world there is no humour, no heroes and no hope. This is no doubt the point of the exercise but it hardly makes for a nice place to visit for 105 minutes. The unrelenting bleakness is wearying on the soul and I couldn't help thinking how both Brazil and V For Vendetta took the premise of the story here and injected either humour or inspiring rebellion to make a story which actually entertained rather than despaired. As an intellectual exercise 1984 is an admirable film but as a piece of entertainment it's joyless and pretty much all talk.
George Orwell's book 1984 is one of the most important literary works ever written. This adaptation is a well crafted film that has glimmer of hope. In fact the film is shrouded in misery, and director Michael Radford conveys the look of Oceania perfectly. This is exactly how I pictured the world to look like. The performances are brilliant and Michael Radford's directing is excellent and he captures the tone and atmosphere of the book perfectly. This is a stunning film with a great performance by actor John Hurt in the lead role of Winston Smith. There are differences from the book of course, but to say that this film is absolute crap, I think it's unfair. The film is definitely worth watching if you're a fan of Orwell's classic work of the same name. The reason the film succeeds so well is that it gets the bleak atmosphere of helplessness perfectly right and also the cast are simply wonderful in their parts. As a Dystopian / totalitarian Sci Fi drama, 1984 definitely delivers something unique and thrilling. This is a must for fans of the book, and is quite underrated in my opinion. I loved the book and I thoroughly enjoyed this film. Michael Radford definitely got George Orwell's vision of the ultimate totalitarian state perfectly nailed down. This film it leaves no place for hope, it's dark, melancholic atmosphere make it a film that you simply can't forget. A brilliant film with a great cast, 2984 is worth watching, just don't expect anything hopeful for the lead character here. John Hurt definitely is wonderful in the part, and his performance along with that of Richard Burton is the standouts of this film. 1984 captures the feel of the book perfectly, and it should appeal to Orwell fans.
1984 Quotes
| | |
| --- | --- |
| Party Member: | Brothers and sisters, one week from now, in this very square, we shall, as a demonstration of our resolve and as a sure sign to those who attempt to threaten our Party and our State, we shall execute publicly the same number of Eastasian prisoners by hanging, drawing and quartering. |
| | |
| --- | --- |
| Winston Smith: | Does Big Brother exist? |
| O'Brien: | Of course. |
| Winston Smith: | The same way as me? |
| O'Brien: | You do not exist. |
| | |
| --- | --- |
| Winston Smith: | We are the dead. |
| | |
| --- | --- |
| Winston Smith: | Everything fades into mist. The past is erased, the eraser forgotten. The lie becomes truth, and then becomes a lie again. |