1990: I guerrieri del Bronx (1990: Bronx Warriors)
(1982)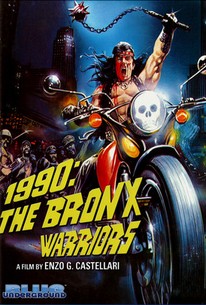 AUDIENCE SCORE
Critic Consensus: No consensus yet.
1990: I guerrieri del Bronx (1990: Bronx Warriors) Photos
Movie Info
One of many post-apocalyptic science-fiction films which poured out of Europe in the wake of George Miller's Mad Max, this film stars Stefania Girolami as Anna, who runs away from her wealthy but obnoxious family into the surrealistic biker gangland of the Bronx. There, she meets Trash (Marco de Gregorio), part of a gang called The Riders, and soon falls in love with him. Problems arise when Anna's father (Enio Girolami), president of the evil Manhattan Corporation, sends in a psychopath named Hammer (Vic Morrow) to stir up trouble among the rival gangs, including a black club led by Ogre (Fred Williamson) and a rollerskating group led by Golem (Luigi Montefiori). Castellari's direction is surprisingly stylish and exciting, but all of the hyper-macho posturing eventually grows tiresome for anyone over fifteen. Still, undemanding viewers will have a good time, as the action keeps coming fast and furious, laced with suitably hardbitten dialogue by director Enzo G. Castellari, Elisa Livia Briganti and Dardano Sacchetti. A minor classic of testosterone cinema, followed by several sequels starting with Fuga dal Bronx (1983). ~ Robert Firsching, Rovi
Critic Reviews for 1990: I guerrieri del Bronx (1990: Bronx Warriors)
All Critics (1) | Fresh (0) | Rotten (1)
A man on a drum kit jams furiously in the middle of an abandoned lot, for no reason other than to generate tension for a pending clash (and for brief, artistic panache).
Audience Reviews for 1990: I guerrieri del Bronx (1990: Bronx Warriors)
½
For a low budget action film, 1990: The Bronx Warriors is one of those films that have interesting ideas of what it tries to do with its ideas. The result is decent at best and quite cheesy for what it does. The film is fun if you have nothing else better to watch, and for fans of low budget action, this is worth a watch. I thought that the ideas were quite interesting, but it never really materialized into something truly memorable. This is a film that is entertaining for what it tries to do, and it works, but it does leave a bit to be desired. Enzo G. Castellari directs this feature, and he crafts a tongue in cheek actioner that tries to somewhat replicate the mad Max, The Warriors type vibe, but it never really takes off. The film is entertaining, but it doesn't do anything to really grab your attention, and make you come back for more. This really should have been much better, but I guess due to its budget constraints, the film does what it can to grab your attention, but it leaves you wanting much more. The film has a good idea, but it's something we've seen before, and it never becomes something that really stands out, and it's a shame because this had the potential of being so much more. This may satisfy fans of low budget cinema, but if you're a casual viewer wanting something that stands out, you'll sadly be disappointed. The film is decent, not bad, but like I said, it really leaves room for improvement. I expected much more out of the film, but in the end, I was bit disappointed.
It would be easy to call this movie a rip off of the Warriors, and truth be told you'd be correct, but this is also a very strong, well paced and extremely entertaining flick from Enzo G. Castellari. That's not to say it isn't flawed, but for me at least what it does right, out weighs it's minor screw up's. Anyways it's those little imperfection's that make these kind of movis so much fun anyways. The deal is it's 1990 and the NYPD has completely given up on bringing law and order back to the Bronx. Gangs rule the streets and the borough is divided up by the warring gangs, with increasingly ridiculous themes. I really liked the inclusion of that dude playing drums by the bridge during that stand off towards the begining. Not sure why it just set the tone for me. Anyways this movie features many good fight scenes throughout, some decent gore, class 80's soundtrack, some sketchy acting, some great dialouge and so on. You could do a lot worse.
Ed Fucking Harris
Super Reviewer
Having seen this on VHS in local video stores growing up I always past it by. As I grew I also grew to want to see this film. Finding it for only 20 bucks with 2 other post-apocalypic flicks I jumped on the chance, only to find it wasn't what I expected even if it did have Fred Williamson and 80's schlock.
Patrick Dolan
Super Reviewer
1990: I guerrieri del Bronx (1990: Bronx Warriors) Quotes
There are no approved quotes yet for this movie.