1991: The Year that Punk Broke
(1992)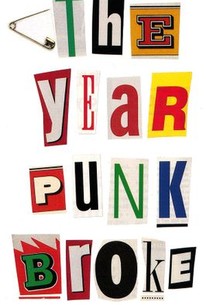 AUDIENCE SCORE
Critic Consensus: No consensus yet.
Movie Info
In 1991, pioneering noise rockers Sonic Youth were about as big as a punk rock band was supposed to get; they'd become one of the most acclaimed bands on the American rock underground, they were signed to a prestigious major label, Geffen, and seemed poised to edge into the commercial mainstream. As it happened, punk rock was about to invade radio and MTV in a big way, but Sonic Youth weren't the ones to lead the charge. In the summer of 1991, Sonic Youth spent two weeks playing large clubs and music festivals, with an up-and-coming band called Nirvana on hand as their opening act. Both bands found themselves playing to some of the biggest and most enthusiastic audiences they'd experienced thus far, and it was a preview of what Nirvana was to experience when their album Nevermind was released a few months later. Musician and filmmaker Dave Markey tagged along to chronicle the tour with a Super 8 sound movie camera, and 1991: The Year Punk Broke was assembled from the footage he shot that summer, as a handful of alternative bands were enjoying a working holiday in Europe, unaware that they'd all be a lot closer to the spotlight in six months. Along with performances from Sonic Youth and Nirvana, 1991: The Year Punk Broke includes appearances by Dinosaur Jr., Babes in Toyland, Gumball and The Ramones.
Critic Reviews for 1991: The Year that Punk Broke
There are no critic reviews yet for 1991: The Year that Punk Broke. Keep checking Rotten Tomatoes for updates!
Audience Reviews for 1991: The Year that Punk Broke
Oh, I see they didn't quite finish this title, so allow me: "1991: The Year Punk Broke the Quality of Rock Music". Yeah, I don't really care for alternative rock genres that were founded in the '90s, and that does some serious damage to this film, even more so than the glaring inaccuracy of the documentary, which totally disregards music history's telling us that grunge was born in Canada in 1996 when Robin Spark-Oh, I mean, Robin Daggers released "P.S. I Love You", or at least according to Alex Trebek and Geddy Lee say. Man, I just seriously annoyed some people who don't watch "How I Met Your Mother", but when it comes to my fellow "HIMYM" fans, well, I'd imagine they're about as embarrassed for me as I kind of am by now. Oh well, I still stand by my very specific reference, and if you don't really get it, then that makes sense, because anyone so interested in a documentary about '90s alternative rock that they're actually reading a review about it written by some random bum like me, then you probably don't have good enough taste to watch "How I Met Your Mother". Hey, people, I also think that '80s mainstream rock got kind of corny, but they went a bit too far with the heavy counterattacks in the '90s, so between Nirvana and the sugar-coated Def Leppard, I personally say, "pour some sugar on me". So yeah, in case that lame joke and the reference to "How I Met Your Mother" haven't told you by now, I'm not really the kind of hard-edged guy that alternative rock usually appeals to, so I went into this film with plenty of caution. Well, it's a shame that caution didn't really pay off, as I am no real fan of this film, and yet, it's certainly better than its music for a few undeniable reasons. In the style of such classic and better music documentaries as "Dont Look Back", "Gimme Shelter" and "Woodstock", this film is nothing more than a fly-on-the-wall showcase of the lives of its focuses, broken up by musical performances, and such a storytelling method doesn't always work, but perhaps more often than not, this documentary is reasonably effective in its establishing a down-to-earth feel that immerses you in its world. I can't honestly say that my time in this film's world was consistently enjoyable, or that immersion value is itself consistent, because after a while, the effectiveness of the novelty wears down into more distancing than immersive, but on the whole, the interesting, if questionable fly-on-the-wall storytelling engages a fair bit, as do, of all things, the stylish moments that break a down-to-earth aimlessness to the film. The usage of stylish editing is uneven, but when David Markey colors things up with snappy cuts and whatnot, it gives you a cinematic feel that may contradict the intentionally wandering realism of this fly-on-the-wall documentary, yet stylishly livens up engagement value, which is livened up enough by the film's focus on non-musical, or rather, particularly non-musical "storytelling" aspects. The film opens with Thurston Moore of Sonic Youth improvising some tongue-in-cheek poem about his friends dancing for about three minutes that, before too long, gets to be annoying something fierce, but after that, when we next witness the interactions between the various bands' members and their peers, it's undeniably charming, for although there are those awkward moments in which the interactions get either annoying or aimless again, it's a touch fun experiencing the humor and down-to-earth social lives of this documentary's unjustly distinguished subjects. I may not like these jerks' music, and they themselves may certainly not be as likable as those featured in "Woodstock", but they add to the charm that does about as much as anything in almost saving the film as decent, and keeping entertainment value from slipping too much. To try and explain my near-paragraph-length ramble session, there's really not much to this film, so it's not like it was ever going to be anything more than decent, but it comes close to achieving likability on the wings of a reasonable bit of style, immersion value and charm that may be enough to win over plenty of viewer. As for me, while the film had me at times, on the whole, I just couldn't really get into it, admittedly largely because I'm just not into the "music" that drives this thing, but also largely because technical shortcomings are impossible to deny. Films like "Gimme Shelter" and "Woodstock" weren't exactly breathtakingly well-shot, but there was more professionalism backing the filming of the events featured in those documentaries, whereas this film isn't anything more than whatever director, editor and cameraman David Markey could come up with technically, thus making the film extremely amateur in its filming, with dizzyingly shaky camerawork and shoddy audio that distances every bit as much as it immerses. Yes, the humble lack of quality in the making of this documentary actually adds to the down-to-earth feel, and therefore helps in immersing you, but once you get used to the novely of immersion value, and once reasonably cinematic stylizing settles down, there's no getting around just how amateur the film looks, and believe me, the engaging novelty of this documentary wears off quickly at times. Like I said, this film's fly-on-the-wall type of "storytelling" draws you into this world, but it certainly didn't work especially well in "Dont Look Back", "Gimme Shelter" and the still pretty darn strong "Woodstock", and sure enough, the active lack of focus and structure doesn't always work in this film, being charged about as much as it can be by the charm of its uniqueness and subjects, but just so blasted aimless and, at times, monotonous as a showcase of nothing but real-world filler that gets to be more esoteric than anything at times. Sure, fly-on-the-wall documentary storytelling can generally work, and works about as often as it doesn't in this film, but the fact of the matter is that this aimless showcase of whatever taints the film with natural shortcomings that the charm and style cannot always obscure, and are almost enough to drive the film out of the decency that is secured as lost by, of all things, the music upon which this film primarily focuses. The film features performances by such definitive '90s rockers as Sonic Youth, Nirvana, Dinosaur Jr., Babes in Toyland and Gumball, all of whom held a style of alternative rock, punk and grunge that no one was doing before this time and has since become prominent in the rock industry, thus making the focuses of this documentary some of the worst things to ever happen to music, as this effort constantly unintentionally reminds you with performances that get to be as good as mediocre (Even the Ramones' version of "Commando" is overbearing, though that might just be because the sound during their performance was so especially awful that all you get is noise and slightly faint guitar whipping), but are generally unlistenable, with unfocused and gimmicky musicianship that is backed, not at all by soul, but by monotonously noisy overstylizing and repulsively heavy vocals delivering weak, often pessimistic and overbearingly unsubtle lyrics that were nothing more than experimental jabs at emotions that have since become embraced as art, rather than the active contradiction of most of the criteria behind quality music that it is, thus making this soundtrack frustrating and worse thing that can be said about this film, even with all of the bad filming and lack of focus. It's a strange thing for me to base my negative, or at least mediocre opinion of a film almost entirely on its soundtrack, but this film is not much more than a showcase of music, and considering that the music that drives this documentary is as bad as it is, the final product is lucky to make it as merely mediocre, celebrating musical disaster after musical disaster as the tasteful and respectable art form that it has fooled the artistically misguided world into thinking it is, and leaving you to meditate upon the film's other issues, partially because you're so desperate to find something that will draw your attention away from the music. Sure, a bad soundtrack, alone, can't make a film bad, and the technical and storytelling issues are a bit forgivable, at least when you get used to them, thus the undeniable charm and immersion value that this film carries comes close to saving it as decent, but doesn't quite make the cut, because although I recommend this film to the alternative rock connoisseurs who will obviously appreciate it much more than me, others will be sitting around, faced with an aimless documentary that offers nothing much for you to look forward to outside of bad music. Overall, fly-on-the-wall non-storytelling often has a certain immersion value that adds to the documentary's engagement, which is further augmented by stylish points in editing and rather humblingly down-to-earth footage of activity by the centers of the film's focus that add to the charm and entertainment value that almost saves the film, but can't quite settle the sting of the distancingly amateur filming, aimless non-structure and generally thoroughly unenjoyably, driving music that leaves "1991: The Year Punk Broke" to fall flat as a forgettable, experimental celebration of rock music's death blows that will win over some, but prove pointless to others. 2.25/5 - Mediocre
Cameron Johnson
Super Reviewer
½
Sonic Youth in all of their glory. Live Nirvana concert footage! Copies of this on DVD: Extremely Rare!
Sean Gillespie
Super Reviewer
1991: The Year that Punk Broke Quotes
There are no approved quotes yet for this movie.