+1
(2013)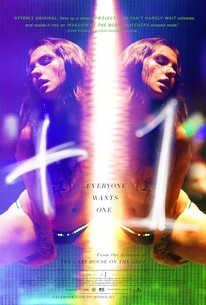 Movie Info
In this supernatural thriller, three college friends go to the biggest party of the year, each looking for something different: love, sex and a simple human connection. When a mysterious phenomenon disrupts the party, it lights a fuse on what will become the strangest night anyone has ever seen. As the three friends struggle to find what they're looking for, the party quickly descends into a chaos that challenges if they can stay friends or if they can even stay alive. (c) IFC MIdnight
Audience Reviews for +1
½
In "Plus One," David(Rhys Wakefield) and Teddy(Logan Miller) attend the party of the year with other things on their minds than just having a good time. For Daniel, it involves trying to make up with his now ex-girlfriend Jill(Ashley Hinshaw) after doing something inexcusable in front of her. For Teddy, it involves something with much higher odds like making it with the beautiful Melanie(Natalie Hall). But this turns out to be his night. On the other hand, Melanie's orgasm not only blows out the local power grid but also punches a hole in the space-time continuum. The general idea of "Plus One" of two parallel universes threatening to collide presents some interesting opportunities for storytelling, which was especially thoughtfully done back in the day in an episode of "Space: 1999." And then "Plus One" takes that intriguing premise and just uses it in the service of juvenile antics, rampant sexism and people running around screaming before simply coming to a halt.
An imaginative science-fiction thriller, +1 has an interesting concept that it's not entirely sure what to do with. After a mysterious anomaly causes a time distortion where two sets of partiers repeat the same events, the two become aware of each other and start to question which ones are real and what will happen when the time distortion brings them into sync. Unfortunately, the plot takes an inordinately long time to find its focus, and even then it takes the simplest way out. And while the film brings up a lot of intriguing ideas, it never really delves into them. Additionally, the acting (what little there is) is rather poor and the characters are underdeveloped. +1 is a disappointing film that tries to do too much and ends being kind of a mess.
Dann Michalski
Super Reviewer
½
Doppelgangers crash the party of the year. Not a bad premise, but an adolescent execution.
+1 Quotes
There are no approved quotes yet for this movie.