2001: A Space Odyssey
(1968)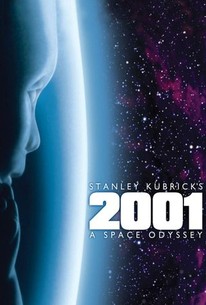 TOMATOMETER
AUDIENCE SCORE
Critic Consensus: One of the most influential of all sci-fi films -- and one of the most controversial -- Stanley Kubrick's 2001 is a delicate, poetic meditation on the ingenuity -- and folly -- of mankind.
2001: A Space Odyssey Photos
Movie Info
A mind-bending sci-fi symphony, Stanley Kubrick's landmark 1968 epic pushed the limits of narrative and special effects toward a meditation on technology and humanity. Based on Arthur C. Clarke's story The Sentinel, Kubrick and Clarke's screenplay is structured in four movements. At the "Dawn of Man," a group of hominids encounters a mysterious black monolith alien to their surroundings. To the strains of Strauss's 1896 Also sprach Zarathustra, a hominid invents the first weapon, using a bone to kill prey. As the hominid tosses the bone in the air, Kubrick cuts to a 21st century spacecraft hovering over the Earth, skipping ahead millions of years in technological development. U.S. scientist Dr. Heywood Floyd (William Sylvester) travels to the moon to check out the discovery of a strange object on the moon's surface: a black monolith. As the sun's rays strike the stone, however, it emits a piercing, deafening sound that fills the investigators' headphones and stops them in their path. Cutting ahead 18 months, impassive astronauts David Bowman (Keir Dullea) and Frank Poole (Gary Lockwood) head toward Jupiter on the spaceship Discovery, their only company three hibernating astronauts and the vocal, man-made HAL 9000 computer running the entire ship. When the all-too-human HAL malfunctions, however, he tries to murder the astronauts to cover his error, forcing Bowman to defend himself the only way he can. Free of HAL, and finally informed of the voyage's purpose by a recording from Floyd, Bowman journeys to "Jupiter and Beyond the Infinite," through the psychedelic slit-scan star-gate to an 18th century room, and the completion of the monolith's evolutionary mission.With assistance from special-effects expert Douglas Trumbull, Kubrick spent over two years meticulously creating the most "realistic" depictions of outer space ever seen, greatly advancing cinematic technology for a story expressing grave doubts about technology itself. Despite some initial critical reservations that it was too long and too dull, 2001 became one of the most popular films of 1968, underlining the generation gap between young moviegoers who wanted to see something new and challenging and oldsters who "didn't get it." Provocatively billed as "the ultimate trip," 2001 quickly caught on with a counterculture youth audience open to a contemplative (i.e. chemically enhanced) viewing experience of a film suggesting that the way to enlightenment was to free one's mind of the U.S. military-industrial-technological complex. ~ Lucia Bozzola, Rovi
Critic Reviews for 2001: A Space Odyssey
Audience Reviews for 2001: A Space Odyssey
Kubrick's meditation on humanity and the universe is an unparalleled masterpiece and one of the most visceral and important films in cinema history.
Kase Vollebregt
Super Reviewer
Although many will find it more than difficult to interpret upon first viewing, it cannot be denied how much of a visionary tale it was for a 1960s film. 2001: A Space Odyssey revels in its audacious score, groundbreaking imagery and a notorious allegory that's ambiguous to the audience even to this present-day. 4/5
Eugene Bernabe
Super Reviewer
½
It's like, whoa, you know? I'm glad I got to see this on the big screen because it was just like...whoa...you know? During the first however many minutes of ominous tones, I kept thinking I was seeing images on the blank screen. They turned out to be just retinal shadows, but the suspense was so awesomely claustrophobic. So many spoofs and homages of Kubrick's ethereal blend of airless space, kaleidoscopic frenzy, and classical music did not diminish this movie-watching experience for me, and what an experience it was. The story, while ponderingly slow and ham-fisted, is an epic fantasia full of cacophony and silence, peace and fear, primitive pasts and equally primitive futures. The SFX were ridiculously advanced; images of Earth and space look just like recent representations in "Gravity" or "Interstellar." The "gravity boots" were an ingenious way to sidestep the weightlessness effect. Keir Dullea is remarkably good and understated as Dr. Dave Bowman, in all his heavy breathing and bottled-up rage. HAL, of course, is a freakish delight. I wasn't quite sold on the symbolism of the monolith, and I expected the piercing noise that it emitted to have some kind of debilitating, foreshadowing effect, but alas, it was only just a biggest, blackest, metaphor.
Alice Shen
Super Reviewer
2001: A Space Odyssey Quotes
| | |
| --- | --- |
| HAL 9000: | I know I've made some very poor decisions recently, but I can give you my complete assurance that my work will be back to normal. I've still got the greatest enthusiasm and confidence in the mission. And I want to help you. |
| | |
| --- | --- |
| HAL 9000: | This mission is too important for me to allow you to jeopardize it. |
| | |
| --- | --- |
| HAL 9000: | I am putting myself to the fullest possible use, which is all I think that any conscious entity can ever hope to do |
| HAL 9000: | I am putting myself to the fullest possible use, which is all I think that any conscious entity can ever hope to do. |
| | |
| --- | --- |
| HAL 9000: | I've just picked up a fault in the AE35 unit. It's going to go 100% failure in 72 hours |
| HAL 9000: | I've just picked up a fault in the AE35 unit. It's going to go 100% failure in 72 hours. |