2001: A Space Travesty
(2002)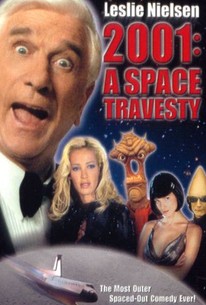 AUDIENCE SCORE
Critic Consensus: No consensus yet.
Movie Info
Originally titled 2000.1: A Space Travesty, this zany send-up of Stanley Kubrick's 1968 sci-fi classic will never be confused with Noel Coward or Neil Simon. The inescapable Leslie Nielsen (who also co-produced and co-scripted) stars as U.S. Marshall Richard "Dick" Dix, who springs into action when President Bill Clinton (Damien Masson) is kidnapped and held hostage on Moon Base Vega. There is nothing for Dix to do but suit up and board a space vessel bound for the moon to rescue the finger-waggling chief executive, whose clone is wreaking more havoc than usual back on Earth. The film's high level of humor can be gleaned from the fact that onboard the spaceship is a highly intelligent computer named "SAL," who sounds like a character from The Godfather -- and dresses accordingly. A Canadian/German co-production, 2001: A Space Travesty was filmed in 2000, then went straight to home video, though it did not make its "official" American debut until it was shown on the Comedy Central cable network on January 13, 2002.
Critic Reviews for 2001: A Space Travesty
Audience Reviews for 2001: A Space Travesty
½
The Naked Gun movies continue (sorta) in space! But unfortunately Leslie Nielsen has a different character name who acts the same. No worse than the Austin Powers 2 space station scenes. Nice tribute to "2001: A Space Odyssey", but it didn't last! Sadly, less than half of the movie is in space; the title and promos are misleading. They should've parodied every Sci-Fi movie possible, with Leslie it would've been great. But they went cheap with an underdeveloped plot about cloning the US President on Earth. The CGI special effects added to the comic situations. The sets were high budget, especially the Paris Opera House. The musical performances were the highlight of this movie: the three Tenors singing "In the Navy", Ophelie Winter's sexy "Get Down Tonight", and Bill Clinton's Saxophone showdown. I know this movie is on IMDB's bottom 100 list, but I've seen much crappier films. The infantile comedy gave me a few chuckles.
Lafe Fredbjornson
Super Reviewer
Everything you need to know about this film is in the title.
Marcus Woolcott
Super Reviewer
2001: A Space Travesty Quotes
There are no approved quotes yet for this movie.