2001 Maniacs
(2005)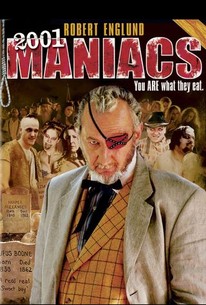 AUDIENCE SCORE
Critic Consensus: No consensus yet.
Movie Info
Hostel director Eli Roth's genre-friendly Raw Nerve film group makes its gore-soaked splash with director Tim Sullivan's kitchy remake of Hershell Gordon Lewis' southern-fried splatter-fest. A drunken group of hard partying college-kids are in for a Spring Break they'll never forget when they take a tragic detour through the small southern town of Pleasant Valley. Greeted by the overzealous mayor (Robert Englund) and promised a wild time at the town's annual barbecue celebration, the initially-hesitant teens soon agree to spend the night when the citizen's down-home hospitality simply becomes too much to resist. But things are not what they seem in the timeless town of Pleasant Valley, and as the thrill seeking students begin to disappear one-by-one in the most gruesome of fashions, it soon becomes obvious that they are to be the main ingredient in Pleasant Valley's most tasty tradition. ~ Jason Buchanan, Rovi
Critic Reviews for 2001 Maniacs
All Critics (3) | Fresh (2) | Rotten (1) | DVD (5)
It's all gleefully over-the-top - from the comedy to the gore - and rife with playful Southern traditions.
...riddled with precisely the sort of unconvincing and subpar acting that one generally associates with low-budget horror flicks.
...on a level playing field, Sullivan's remake is a better film [than the original] in every regard...Not for grandma, but loads of crude fun otherwise.
August 10, 2006
Audience Reviews for 2001 Maniacs
[img]http://images.rottentomatoes.com/images/user/icons/icon14.gif[/img]
Directors Cat
Super Reviewer
2001 Maniacs is a film that had plenty of potential of being a terrific and memorable horror comedy. Unfortunately this film misses the mark, and ends up being a tiresome tedious affair with no redeeming qualities. This is simply put a bad movie and it just fails in every sense. I am actually surprised that this film didn't deliver anything worthwhile with its interesting premise. However, it was a pitiful movie that had some poor acting, and considering there was Bill Mosely and Robert England, two veterans of the genre, this one simply didn't offer anything good for horror fans. I thought that this was a poor horror film, and yes, I do get that it is supposed to be ridiculous, but the filmmakers could have tried to at least make something good and memorable. This film was bad and it was a waste of good horror actors' talents in my opinion. The only scene that was good to see was the part where one of the girls was getting sawed in half by a table saw. However not even that juicy bit of gore was enough to redeem this poorly thought out movie. If you want a good killer redneck horror comedy that is over the top, but very entertaining, watch Trailer Park of Terror instead. 2001 Maniacs is yet another failed remake that just misses the mark. This is a horrible film that fails to really entertain, and you'd be better off watching something else. The idea was good, but the execution was very poor and lazy that the result is a badly acted film that just ends up being a waste of time.
This movie was completely out of its mind. The plot is outrageous as well as the characters. Just a fun movie to watch. I loved Robert Englund and his character of a cyclops confederate. It's reminiscent of b-horrors from the 70s and 80s, where the soul purpose is to entertain.
Conner Rainwater
Super Reviewer
2001 Maniacs Quotes
There are no approved quotes yet for this movie.